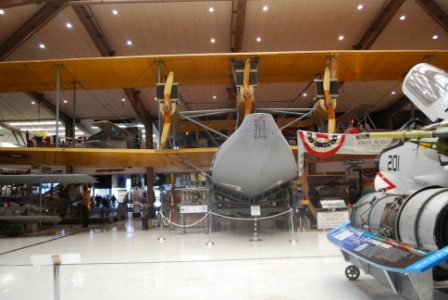 News Release Date:
April 28, 2009
Contact: Brian Feeney, 718-354-4606
Contact: Rita Mullally, 718-318-4304
First to Fly Across the Atlantic Ocean
Ninety years ago on May 8, 1919, eighteen Navy aviators took off in three huge flying boats from Naval Air Station – Rockaway, which was located on the site where Jacob Riis Park is located today. Their mission was to be the first to fly across the Atlantic Ocean. Using aircraft that would be considered crude by today's standards, these aviators made the brave attempt to be the first to fly across the Atlantic. Two of the planes failed to make the entire trip, but the NC-4 completed the multi-leg journey on May 31, 1919 by landing at Plymouth, England.
The National Park Service will be commemorating this flight with the multi-media presentation, Into the Danger Zone –The First Transatlantic Flight. The program will be given at the Jacob Riis Park Bathhouse Visitor Center in Rockaway, Queens on Friday, May 8 at 1 p.m. On that day, the park will also be opening a new exhibit in the visitor center gallery that chronicles the flight of the NC-4.
The program is free. For additional information call 718-318-4300.