Terrapins Tell a Tale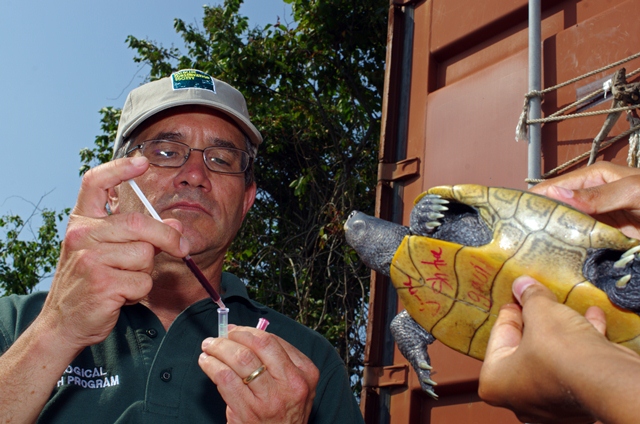 News Release Date:
January 12, 2015
Contact: Daphne Yun, 718-354-4602
 Join the National Park Service at the Jamaica Bay Wildlife Refuge visitor center to see the winners of the 2014 Gateway National Recreation Area Photo Contest.  The show's opening reception will take place from 2 to 4 p.m. on Jan 24 and provide visitors a chance to see the winning images and meet the photographers.  The show will continue through the end of March.
People were invited to tell a story with pictures for the inaugural Gateway Photo Contest.  Fifty people submitted 150 photos and ranged from birds in flight at dawn to sunsets over the harbor.  A panel selected the top ten images; and crowd-sourced voting via Facebook selected the first, second and third place winners.
The Gateway staff was surprised by the results of the voting.  A photo reflecting the importance of natural history in the largest urban park in the NPS system triumphed over more scenic photos that had been expected to dominate.  Hyungjin Yoon took first place with "What's Up, Doc?" an image of a diamond back terrapin looking inquisitively at a veterinarian.
About Gateway National Recreation Area
Established in 1972, Gateway National Recreation Area offers more than 26,000 acres of marshes, wildlife sanctuaries and recreational athletic facilities, miles of sandy beaches; indoor and outdoor classrooms; picnicking and camping areas, as well as historic structures and military installations, airfields, a lighthouse, and adjacent waters around New York harbor.  The park offers urban residents in two states a wide range of recreational opportunities year round.  Gateway is one of the ten most visited national parks in the country.  For information about Gateway's upcoming public programs, see the park's Web-site at www.nps.gov/gate.  To join the conversation about Gateway, like us on our Facebook page at www.facebook.com/Gatewaynps.
Last updated: February 26, 2015