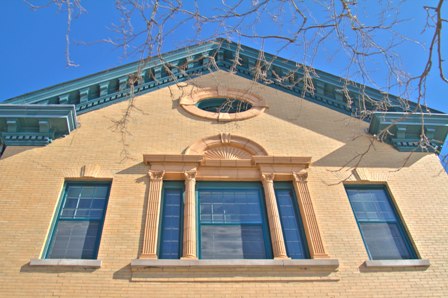 News Release Date:
May 22, 2014
Contact: John Harlan Warren, 732-872-5908
WHO: Audrey Tepper, historical architect, National Park Service (NPS), Technical Preservation Services Branch, at the next meeting of the Fort Hancock 21st Century Federal Advisory Committee.
The Basics of the Federal Historic Preservation Tax Incentives Program and the Secretary of the Interior's Standards: Making it Work at Fort Hancock." She will discuss the basics of the Federal Historic Preservation Tax Incentives Program and national standards for rehabilitating historic buildings. These standards will be used for rehabilitation of historic buildings at Sandy Hook's Fort Hancock. While she will share her knowledge of federal tax incentives, her field of expertise is the architecture and preservation of historic buildings.
WHEN: Friday, May 30, 2014. Tepper's presentation will begin after the 1 pm public comment period. Committee meetings begin at 9 AM, with a public comment section regularly scheduled at 1 PM. Committee meetings are open to the public. Find out more: http://www.forthancock21stcentury.org/.
WHERE: Twin Lights Historic Site in Highlands, New Jersey. Directions: http://www.state.nj.us/dep/parksandforests/historic/twin-lights/twin-lights-general.htm.
NOTES: Tepper is a historical architect with NPS Technical Preservation Services in Washington, D.C. For over 20 years, she has worked for the NPS with historic structures both inside and outside of national parks. Her office authored the Secretary of the Interior's Standards for Rehabilitation, the guiding principles behind best practices for preservation in the US. Tepper has extensive experience applying the Standards when changes are made to historic buildings, with expertise making these resources more sustainable protecting them in the event of a natural disaster.
About Fort Hancock and Sandy Hook Proving Ground National Historic Landmark
Fort Hancock, a former U.S. Army base located on the Sandy Hook peninsula, protected lower New York Harbor from invasion by sea. Established in 1898 and decommissioned in 1974, the fort and dozens of historic buildings were included within Gateway National Recreation Area. Today, Sandy Hook offers recreational, natural and historic opportunities. Find out more at https://www.nps.gov/gate/index.htm.
—NPS—