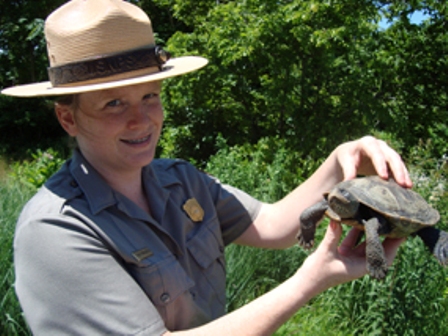 News Release Date:
August 12, 2009
Contact: Jane Ahern, 718-354-4607
For many people, a trip to one of our country's national parks is the culmination of a life long dream. "I always wanted to see Yellowstone," or "When we retire we're going to see…(fill in the name of your favorite national park)," are just a few of the comments rangers hear from visitors. Indeed, visits to national parks enrich the lives of many in this nation. However, not everyone can take the big "dream vacation"— often due to a variety of social and economic factors. Also, many people don't realize that there are plenty of national parks, like Gateway National Recreation Area in NY/NJ, right near their own backyards. 
The National Park Service (NPS) Teacher to Ranger to Teacher (TRT) Program offers a solution for those who may never get to parks out west and beyond. It also educates people about national park experiences that may be closer to home. The TRT Program links specific national parks with teachers from predominantly Title 1 (at least 30% of students on free or reduced cost meals) school districts. Teachers in the program spend the summer working as park rangers, often living in the park. They perform various duties depending on their interests and the needs of the park, including presenting interpretive programs, staffing the visitor center desk, developing curriculum-based materials for the park, or taking on special projects. Back at school, Teacher-Rangers share their experiences with students and other educators, and teach about our national parks.
At Gateway National Recreation Area (GATE), Teacher-Ranger Renay Moran-Kurklen is one of those teachers. She is assigned to GATE's Jamaica Bay Wildlife Refuge, in Queens, NY. "During the school year I am a teacher at The Renaissance Charter School in Jackson Heights, Queens, New York," said Moran-Kurklen. "My school is a K-12 charter school accepting students from all five boroughs of New York City."''
But, she's not just working at Jamaica Bay, she's also blogging her way through the summer as well. This is Moran-Kurklen's second summer as a Teacher-Ranger-Teacher with the National Park Service. Last summer, she worked at Acadia National Park in Maine. Moran-Kurklen blogged about her experiences on Acadia's website. Gateway's Jamaica Bay Unit Chief of Interpretation Kathy Krause heard about those blogs and wanted her to continue them at Gateway as well. "What a great way to connect Renay's students and park visitors with her experiences in the park," said Krause. "They can read, in her own words, about what type of work goes on in National Parks, and what makes these places special."
Moran-Kurklen's goal is to educate herself and in turn her students about the environment. "More importantly, I want to instill a sense of stewardship of the land. I want my students to know that they play an active role in the preservation and protection of plants and animals," she added. So far she's been scratched by a terrapin turtle, seen baby osprey in their nests and helped researchers in their efforts to learn more about why the salt marshes are disappearing. If you are curious to learn more about her experiences and see pictures of her summer work online visit her blog at: https://www.nps.gov/gate/forteachers/trt-journal-2009.htm Moran-Kurklen will post blogs throughout the school year as well.
Any teacher can apply to the program and several national parks around the country participate in this eight-week program. Teacher-Rangers receive a stipend, uniform, resources and a wealth of knowledge. For more information about the Teacher-Ranger-Teacher program, visit https://www.nps.gov/learn/trt
Gateway NRA's Jamaica Bay Wildlife Refuge is a 9,155 acre preserve of salt marsh, upland woods, grasslands, fresh water ponds, open bay and islands.