BioBlitz Makes Coastal Species Count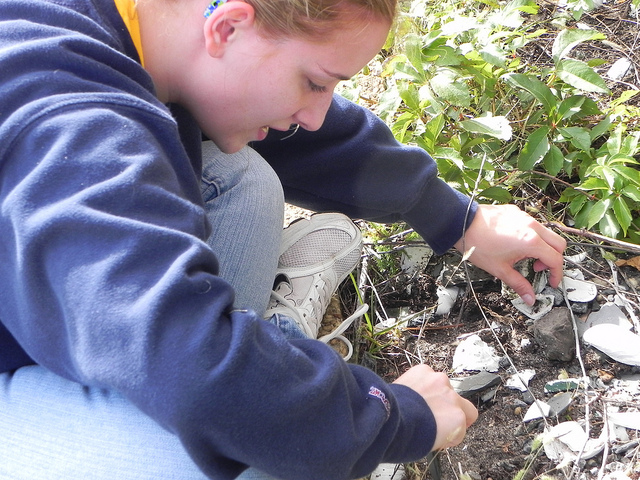 News Release Date:
September 26, 2011
Contact: John Harlan Warren, 718-354-4608
SANDY HOOK, N.J - College student Rebeccah McGettigan sat by a former officer's quarters at Fort Hancock, part of Gateway National Recreation Area's Sandy Hook Unit, looking for bugs. "I saw a red caterpillar, but he got away," she fretted as she turned over rocks and shells. Near the bay side of the peninsula, her classmates from Georgian Court University in Lakewood, N.J., chased a Monarch butterfly.
These science students, along with park staff and over 150 volunteers, shared the same goal on September 16, 2011: identify as many species as possible in a 24-hour period. By the end of the Sandy Hook BioBlitz, they had located nearly 450 species, mostly birds, terrestrial plants and invertebrates. Final figures will be available at a later date.
Gateway, a 26,000-acre national park spanning New York and New Jersey, has hosted previous BioBlitz events at Floyd Bennett Field in Brooklyn and Jamaica Bay Wildlife Refuge in Queens, N.Y. This was the first BioBlitz held at Sandy Hook, one of the few barrier coastal environments in New Jersey. The American Littoral Society, which has an office at Sandy Hook's historic Fort Hancock, co-hosted the event. ALS is one of several natural science organizations with offices based at the park.
"We were founded by citizen scientists," said Stevie Thorsen, who coordinated the event for ALS. "Divers wanted a place to submit their data, so this BioBlitz is the kind of activity which is at our roots. It's also a way for us to celebrate our 50th anniversary this year." Thorsen also noted that the BioBlitz brings nature enthusiasts together in the field with scientists.
According to Gateway Superintendent Linda Canzanelli, the data gathered from this "wildlife snapshot" will help the National Park Service make better decisions about the future of Sandy Hook. She noted that students from the Marine Academy for Science and Technology, a high school located at the park, would be helping gather data along with experts from Rutgers University, Brookdale Community College, NOAA and New Jersey Sea Grant, among other organizations.
Several educational activities, which participants found enjoyable took place during the BioBlitz as well. Middle school students seined in Horseshoe Bay at sunset and volunteers learned how to build protective exclosures for a coastal bird species that favors Sandy Hook during the summer called the piping plover.
Sandy Hook reveals a secret world in the shadow of New York City, said ALS Executive Director Tim Dillingham. "It's a wide-open space in the middle of a vast urban area. Here, people can experience wilderness right at the doorstep of 24 million people and we always find surprises here."
Jessica Browning, biologist at Gateway, said Sandy Hook's two million beachgoers depend on the natural rhythms of the beach habitat and biodiversity helps save Sandy Hook's beaches. "Last month [during Hurricane Irene], the beaches and dunes held together because of beach grasses, goldenrod and even poison ivy. Plants need pollinators like bees and bats to hold the beach in place," explained Browning.
"Now with sea level rise and climate change, the data we gather is particularly important because the things that are here now may not be here in a couple of years," Browning said.
--NPS--
Last updated: February 26, 2015