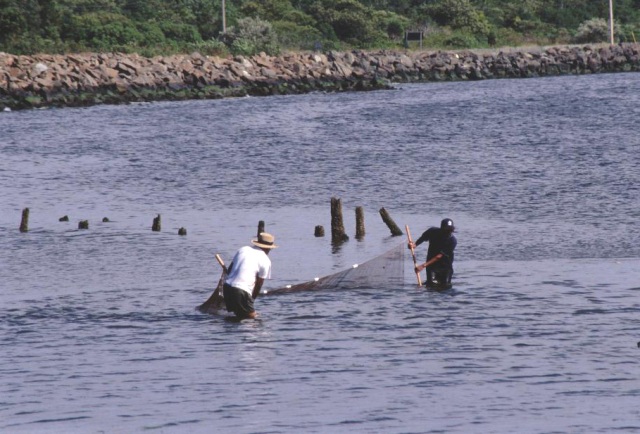 News Release Date:
September 8, 2011
Contact: Jessica Browning, National Park Service, 718-338-3338, #246
Contact: Eileen Kennedy, Deputy Director, American Littoral Society, 732-291-0055, #111
Gateway National Recreation Area, in partnership with the American Littoral Society, will hold a 24-hour "wildlife census" of animals and plant species at the park's Sandy Hook Unit in Highlands, N.J. One "species" that the park hopes to see in great numbers: volunteers.
"Naturalists with any level of experience can become 'citizen scientists' for a day at Sandy Hook's BioBlitz," explained Superintendent Linda Canzanelli. "The data you gather will help Gateway decide how to protect Sandy Hook's important ecosystem, both now and for years to come."
Registration is open and can be completed by visiting http://nbii-nin.ciesin.columbia.edu/sandyhook/bioblitz/SandyHook.jsp
For younger scientists, Gateway and ALS will host several activities for children and their parents where they can have fun while learning about nature alongside experts. Activities include a sunset seining event, a moonlight moth hunt and a "biodiversity fair." Saturday's programs include:
Tour of Sandy Hook's Holly Forest Ramble:

Visitors can explore Sandy Hook's 64-acre holly forest, the largest maritime holly forest on the east coast of the United States and will learn how these amazing trees have adapted to sand blasting and salt spray through time. (10 A.M. to 11:30 A.M.)
What's Alive on the Old Dune Trail?

Learn about the barrier beach ecosystem of Sandy Hook including the maritime holly forest, dune system, swale habitat and brackish pond. (11 A.M. to 12:30 P.M.)
How to Build a Piping Plover Exclosure:

These cage-like devices prevent both predator and human disturbance for the endangered Piping plover, a native shorebird species protected under the Endangered Species Act. (12:30 P.M. to 2 P.M.)
Junior BioBlitz (for teenagers):

Sponsored by the American Littoral Society, this activity offers teams of up to 20 teens a chance to compete as they identify species from prepared lists. Teachers or leaders that want to register a group to compete should email Stevie@littoralsociety.org. Pre-registration for this event is required.
This is the fourth BioBlitz for Gateway but the first to be held at Sandy Hook. Last year's BioBlitz at Gateway's Floyd Bennett Field identified nearly 500 species of plants and animals, a surprising amount of species diversity to be found in a former municipal airfield in Brooklyn.
The idea of the BioBlitz was developed by entomologist Edward O. Wilson. Today, BioBlitzes offer citizen scientists a chance to take a "snapshot" of wildlife at natural areas throughout the world.
Sandy Hook's BioBlitz will engage nine teams of biologists including university professors, advanced amateur scientists and naturalists, college students and interns in 24-hour race to see how many different species each team can identify in their area of expertise. More than 70 scientists and volunteers have signed up to participate. Interested parties can register at http://nbii-nin.ciesin.columbia.edu/sandyhook/bioblitz/SandyHook.jsp.
About Gateway National Recreation Area
Established in 1972, Gateway National Recreation Area has more than 26,000 acres of marshes, wildlife sanctuaries and recreational athletic facilities, miles of sandy beaches; indoor and outdoor classrooms; picnicking and camping areas, as well as historic structures and military installations, airfields, a lighthouse, and adjacent waters around New York harbor. The park offers urban residents in two states a wide range of recreational opportunities year round. With more than nine million visitors a year, it is the third most visited national park in the country. For information about Gateway's upcoming public programs, see the park's Web site at https://www.nps.gov/gate/index.htm
About the American Littoral Society
The American Littoral Society is a membership-based, coastal conservation, non-profit organization headquartered on Sandy Hook in Highlands, N.J. Its mission is to promote the study and conservation of marine life and habitat, defend the coast from harm, and empower others to do the same. To learn more about the Society and its work, visit www.littoralsociety.org .
-NPS-
 out of a meeting