Sandy Hook Lighthouse Turns 250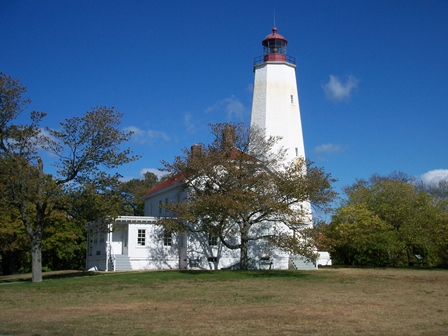 News Release Date:
June 9, 2014
Contact: John Harlan Warren, 732-872-5908
On Saturday, June 14, 2014, Gateway National Recreation Area will celebrate the 250th anniversary of the Sandy Hook Lighthouse from 11 am to 4 pm. The public is invited to this free event.
"For 250 years, the Sandy Hook Lighthouse has stood as a beacon of hope, surviving a revolution, hurricanes and two world wars," said Superintendent Jennifer T. Nersesian. "Since its first lighting on 1764 it has guided thousands of ships to safe harbor, keeping countless lives safe. The nation's oldest standing and operating lighthouse inspires us to weather adversity, such as how Fort Hancock and our neighboring communities have survived challenges like Hurricane Sandy."
The celebration begins at 11 am on the southwest lawn of the lighthouse. The Fifes and Drums Band of the Old Barracks in Trenton, N.J., will open the ceremony with Colonial era marching music, while high school students from Sandy Hook's own Marine Academy of Science & Technology (MAST) will present a color guard. Speakers will welcome the public, followed by a ribbon-cutting ceremony at 11:45 am.
Parking and all programs are free. Visitors should tell guard house employees that they are attending the lighthouse event and they will not be charged. Several activities are planned, including:
Lighthouse tours from 12 noon to 4:30 pm. To get to the top, visitors must climb 95 steps on a spiral staircase and a nine-rung ladder. Children must be at least 48 inches tall to get to the top.
Musket and cannon demonstrations by Revolutionary War living historians.
Musket drills and Colonial era children's games on the main parade ground.
1700s bateau (flat-bottom boat) demonstrations on the bayside beach, opposite Guardian Park Picnic Area.

Talks on the life of a lighthouse keeper and the history of colonial lighthouses by U.S. Lighthouse Society President Wayne Wheeler, held in a tent near the Lighthouse Keepers Quarters.

MAST Interactive Herbarium on the lighthouse grounds.
Food and beverages from local concessions.
Tables from representatives of organizations located at Sandy Hook and history groups.
In the Lighthouse Keepers Quarters: exhibits, gift shop (including 250th anniversary souvenirs).
The original whale oil lamps of the Sandy Hook Lighthouse were first lighted on June 11, 1764. Today, an electric light aids ships as they sail in and out of New York Harbor. Technology continues to change at the lighthouse today, with a webcam in the process of installation and the creation of the park's Instagram page (GatewayNPS). Both will be online by June 11, the true 250th anniversary.
Sandy Hook Lighthouse was the fifth of eleven lighthouses built in the thirteen former British colonies between 1716 and 1773. It has literally stood the test of time to become the oldest standing and operating lighthouse in the United States, surviving the American Revolution when Sandy Hook became a base for British troops from 1776 to 1783. In 1964, its bicentennial year, the lighthouse was designated a National Historic Landmark.
For more information, call the Sandy Hook Visitor Center at 732-872-5970.
About Fort Hancock and Sandy Hook Proving Ground National Historic Landmark
The Sandy Hook peninsula played a major role in the defense of New York Harbor.British and Loyalist troops seized the area from Continental troops during the American Revolution and held it throughout the war. The location was fortified during the War of 1812 and again just prior to the Civil War. From 1874 to 1918 the US Army tested weapons at Sandy Hook Proving Ground. Fort Hancock, activated in 1898, protected New York from the Spanish-American War through the nuclear age. In 1974 the area was transferred to the National Park Service as part of Gateway National Recreation Area. The Fort Hancock 21st Century Federal Advisory Committee, a citizens committee, advises the park on the adaptive reuse of Fort Hancock's historic buildings; find out more at www.forthancock21stcentury.org.
About Gateway National Recreation Area
Established in 1972, Gateway National Recreation Area offers more than 26,000 acres of marshes, wildlife sanctuaries and recreational athletic facilities, miles of sandy beaches; indoor and outdoor classrooms; picnicking and camping areas, as well as historic structures and military installations, airfields, a lighthouse, and adjacent waters around New York harbor. The park offers urban residents in two states a wide range of recreational opportunities year round. Gateway is one of the ten most visited national parks in the country. For information about Gateway's upcoming public programs, see the park's Web site at https://www.nps.gov/gate/index.htm.To join the conversation about Gateway, like us on our Facebook page www.facebook.com/Gatewaynps.
—NPS—
Last updated: February 26, 2015