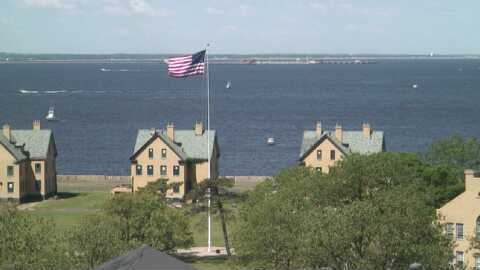 News Release Date:
June 11, 2014
Contact: John Harlan Warren, 732-872-5908
For 250 years, the Sandy Hook Lighthouse has guided ships sailing to New York Harbor with beams of light. Now it broadcasts live streaming images of Sandy Hook to the entire world.
Gateway National Recreation Area added this feature to the lighthouse on June 11, the 250th anniversary of the first lighting of its original whale oil lamps. Live images can be viewed at https://www.nps.gov/gate/photosmultimedia/webcams.htm.
"Now you don't have to climb 95 steps and a steep ladder to enjoy the view from the Sandy Hook Lighthouse," said Pete McCarthy, Unit Coordinator of Sandy Hook Unit. "The new web cams make the lighthouse accessible, not only to people with walking impairments but to people all over the world."
"Sandy Cam" will ultimately include four live streaming cameras, which can be viewed live 24 hours a day. Two are in active use, while the third and fourth should be in operation in the near future. Fort Cam overlooks the bay side, including Fort Hancock's distinctive yellow brick buildings on Officers Row. Harbor Cam captures the sunrise over the Atlantic Ocean and views of ship traffic. 
The park celebrates the lighthouse's 250th birthday with the public on Saturday, June 14. The event features several family-friendly activities, including Revolutionary War reenactors. For more information, see https://www.nps.gov/gate/parknews/shl250.htm. 
Gateway is the 64thnational park to install web cameras such as "Sandy Cam." Statue of Liberty National Monument's Torchcam has the most viewers; since October 2011, more than two million virtual visitors have viewed Torchcam every year.
—NPS—