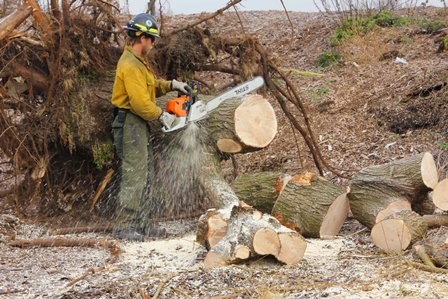 What's open at Gateway right now?
Fort Wadsworth, Staten Island
Great Kills Park, Staten Island
Jamaica Bay Wildlife Refuge, Queens
Frank Charles Park, Queens
Hamilton Beach, Queens
Floyd Bennett Field (with some restrictions)

All other areas are closed to the public at this time.
From stabilization to recovery
For almost two months, an Incident Management Team worked with Gateway employees to stabilize park resources. Over 1,000 Federal employees from Alaska to Puerto Rico participated in this effort. Gateway is grateful for their dedication and hard work, which took employees away from their families during the holiday season.
"Stabilize" means making sure things do not get worse. It included: pumping water out of basements; moving and sifting sand displaced by the storm; checking buildings for structural integrity; clearing roads and trails of debris, including fallen trees; drying out historic documents and artifacts; checking beaches for unexploded ordnances; removing mold from water-damaged buildings.
Now comes the process of recovery: setting things right. Areas of Gateway will reopen once they are safe for visitors and employees and in working order. This process will be slow at times because we want to do things safely and to make repairs that last. Different areas have different needs, so some will take much longer to open than others.
Planning before rebuilding
Like the entire area hit by Hurricane Sandy, Gateway will never be the same as it was before the storm. It can, however, be as good or better than what was here before. The "new normal" will take not only effort but also sound planning.
The hurricane has inspired us to think about what works best, which may or may not be what was there before. It may not be a wise use of taxpayer dollars to restore damaged areas to the old status quo, especially if the work can be undone by the next hurricane. This longterm planning was already underway with the multi-year revision of our General Management Plan, so we have a head start. More than ever, planning must guide how the park responds to this hurricane and to the reality of future storms.