Gateway recovers from Hurricane Sandy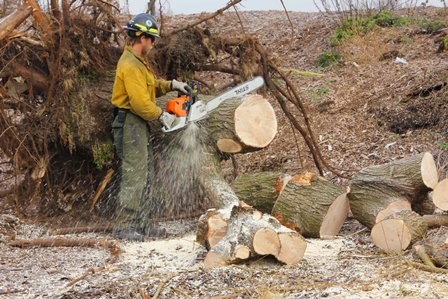 What's open at Gateway right now?
Fort Wadsworth, Staten Island
Great Kills Park, Staten Island
Jamaica Bay Wildlife Refuge, Queens
Frank Charles Park, Queens
Hamilton Beach, Queens
Floyd Bennett Field (with some restrictions)

All other areas are closed to the public at this time.
From stabilization to recovery
For almost two months, an Incident Management Team worked with Gateway employees to stabilize park resources. Over 1,000 Federal employees from Alaska to Puerto Rico participated in this effort. Gateway is grateful for their dedication and hard work, which took employees away from their families during the holiday season.
"Stabilize" means making sure things do not get worse. It included: pumping water out of basements; moving and sifting sand displaced by the storm; checking buildings for structural integrity; clearing roads and trails of debris, including fallen trees; drying out historic documents and artifacts; checking beaches for unexploded ordnances; removing mold from water-damaged buildings.
Now comes the process of recovery: setting things right. Areas of Gateway will reopen once they are safe for visitors and employees and in working order. This process will be slow at times because we want to do things safely and to make repairs that last. Different areas have different needs, so some will take much longer to open than others.
Planning before rebuilding
Like the entire area hit by Hurricane Sandy, Gateway will never be the same as it was before the storm. It can, however, be as good or better than what was here before. The "new normal" will take not only effort but also sound planning.
The hurricane has inspired us to think about what works best, which may or may not be what was there before. It may not be a wise use of taxpayer dollars to restore damaged areas to the old status quo, especially if the work can be undone by the next hurricane. This longterm planning was already underway with the multi-year revision of our General Management Plan, so we have a head start. More than ever, planning must guide how the park responds to this hurricane and to the reality of future storms.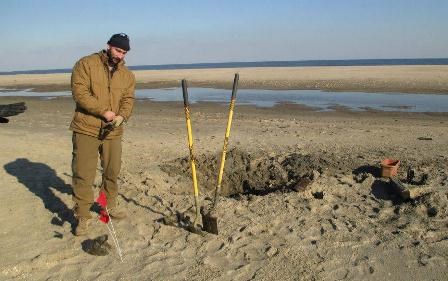 Sandy Hook Unit:

Overall: While the iconic lighthouse is in good shape, many buildings sustained water damage and needed to be pumped out. Flooding also wiped out most utilities which were housed in building basements or at ground level. The fresh water and sewage systems are now inoperable, causing NPS employees who lived at the Hook to be displaced from their homes. There is still no phone service. Beach centers were hit particularly hard and dunes sustained major damage. The Multi-Use Path, which was ruptured at several points, needs repair. Boardwalks at beaches such as Gunnison need repair. The ferry dock has buckled and needs to be restored.The entire Hook remains closed to visitors.
Response: Areas have been stabilized so that their conditions does not worsen, including buildings which were flooded. The waste water treatment plant and system need major repairs before they will be operable. Beaches have been inspected for unexploded ordnances from Sandy Hook's days as an Army fort; one such ordnance was discovered and removed. Sand is being moved from parking lots and structures back to the beach. New traffic and directional signs have been ordered and are being installed.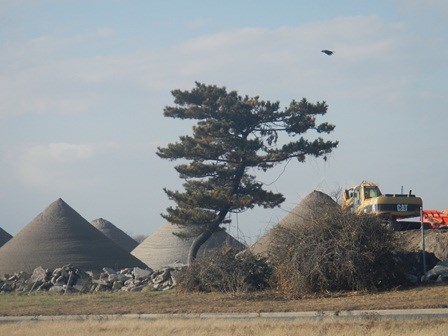 Jamaica Bay Unit:
Overall: At Jacob Riis Park in Queens, water pushed through the bottom floor of the bathhouse, the police building and lifeguard station. The parking lot at Riis is being used as a temporary debris storage site, especially for the removal of debris from Breezy Point and other Rockaway areas affected by the storm. Fort Tilden, near the community of Breezy Point, was hit hard by the storm. The West and East Ponds at Jamaica Bay Wildlife Refuge were breached by the ocean. The West Pond circular trail was cut in half .
Response: Jamaica Bay Wildlife Refuge, Frank Charles Park and Hamilton Beach have already reopened to the public. Floyd Bennett Field is open, except for the North 40, and the fishing area off of Aviation Road. Aviator Sports Complex opened shortly after the storm and remains open. Jacob Riis Park and Fort Tilden remain closed. Canarsie Pier requires an engineering assessment to see if it is safe to reopen.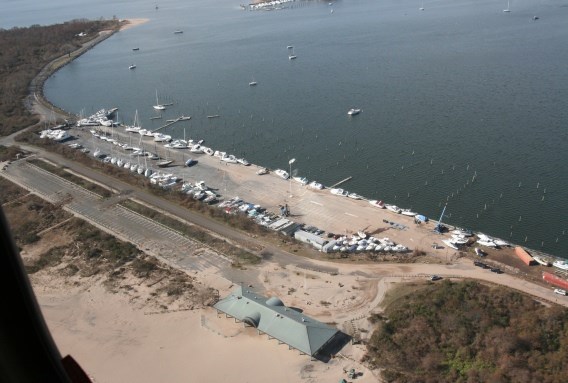 Staten Island Unit:
Overall:
Great Kills Park (locally referred to as Gateway Park) had relatively little damage to its natural areas, but the docks to Nichols Marina are gone. (See photo.) Miller Field received some flooding. It is used as a staging area for relief services. Its historic hangar, which housed maintenance equipment for the park, was flooded and severely damaged. Fort Wadsworth lost some trees and coastline.
Response
:
Gateway National Recreation Area is working to create a temporary marina in the current location
.
Great Kills Park is open up to Crookes Point. Crookes Point may remain closed for the winter. Areas previously closed because of radiation contamination remain closed. Fort Wadsworth was the center of activity as headquarters for the Incident Management Team (IMT), which has managed all NPS sites in their recovery. and is now open to the public.
Last updated: February 26, 2015