Rude Awakenings Program Delivers Lifesaving Messages to Teens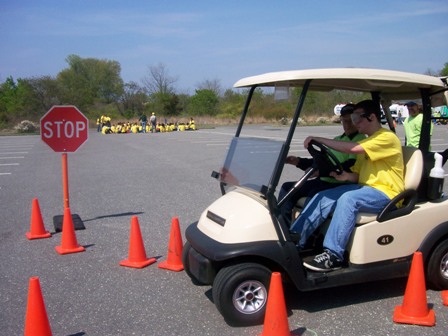 News Release Date:
April 30, 2010
"Wham!" was the sound of an airbag as it hit the unbuckled driver with enough force to blow the 'test dummy's" head twenty feet in the air. "Crunch!" was the sound of a vehicle as its solid metal body smashed into pieces on the hard asphalt at over 60 miles per hour. But, absolutely not a single sound was heard when Allison Wheeler recalled the events leading up to her younger brother's death in a drunk driving incident. "Oh my God," were the words heard over and over again from teens attending the Rude Awakenings presentations and demonstrations at Gateway National Recreation Area's Sandy Hook Unit on April 22.
This was the 6th year that the Sandy Hook Unit Law Enforcement (LE) Rangers and members of the Sandy Hook Structural Engine Company participated in the Marine Academy of Science and Technology (MAST) Rude Awakenings program. The program which is administered by the Middletown Township Police Department is an anti-drinking and drugged driving program that targets high school students prior to their prom nights and summer vacation. The program consists of personal testimonies, presentations, and interactive field activities. MAST is a magnet high school located with in the park.
Allison Wheeler's story of how a drunk driver changed her family's lives was especially poignant. Her brother "D.J." was killed in a crash 6 years earlier on his way to a party with friends. The driver of the vehicle he was riding in, unbeknownst to him, was drunk. DJ, the driver, and the other passengers in the vehicle were thrown from the car in the crash. D.J. was pinned under the vehicle and died at the hospital a short time later. His older sister Allison Wheeler shared how her life is today without him. "That driver not only killed my brother that night, he killed a piece of everyone in my family as well," whispered Wheeler through her tears. "To this day we can't celebrate Christmas without him, it was 'his' holiday. It's just too hard." Allison and her sister Erin continue to speak to youth groups to encourage them to think before they get in a car and to never drink or drive under the influence of drugs.
Program activities allowed the participating students to perform routine tasks while wearing the Fatal Vision simulation goggles which impair vision in a manner similar to a Blood Alcohol Content (BAC) of .08% and .12%. The students drive golf carts through a cone course without and then with the goggles on to demonstrate the effects alcohol on their mental and physical abilities. They are also administered the National Highway Traffic Safety Standardized Field Sobriety Tests.
The event also calls upon many volunteers to administer the activities of the day's events. Liz Gallo of MAST and her three children; Adrienne, Alex, Alyssa, ages 21, 17 and 15 respectively, have volunteered for six years. "It's important that we understand there are consequences to all our actions," said Alex Gallo. "It only takes a split second to change your life forever." It was Alex Gallo's first year as a participant and not a volunteer. His younger sister Alyssa added, "It's never too young to start talking about this."
A mock drunk driving boating crash was staged with a response from NPS LE rangers, fire services, and Emergency Medical Services personnel. The final presentation involved the dropping of vehicles from a crane at various heights to demonstrate the effects of different speeds of impact caused by such a crash. Prior to the day of the presentation the drop cars are delivered to the participating schools and the students spend time painting the cars with their school colors and sitting in the cars. After the cars have been dropped, students then inspect the cars to witness firsthand how little survivable space there is in a collision at various speeds.
The MAST program included students from several other area schools, for a total of approximately 1,200 student participants. GATE's Sandy Hook Unit LE rangers also assist with the administration of the program at other area high schools throughout the year.
Last updated: February 26, 2015