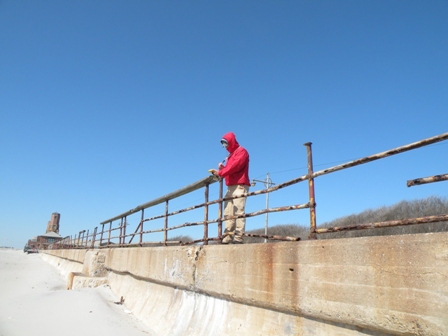 News Release Date:
December 17, 2009
Contact: Jennifer Wolff, 718-354-4608
Gateway National Recreation Area, a unit of the National Park Service, has awarded a $600,000 design/build contract to the Cutting Edge Group, LLC, of Lake George, NY to complete improvements to the historic landscape at Jacob Riis Park, Queens, New York. Jacob Riis Park lies at the foot of the Marine Parkway Bridge-Gil Hodges Memorial Bridge, located in the middle of the Rockaway peninsula. The project includes the restoration of approximately 2,500 linear feet of the historic Ship's Rail located along the boardwalk areas along the beach as well as repaving the existing original walkways within the Back Beach Mall area, behind Bay 9.
The project called for a detailed mapping of the historic Ship's Rail which was conducted by the Northeast Region GPS SWAT team. Nigel Shaw, the Geographic Information System (GIS) Coordinator for the Northeast Region, teaches a GPS class at the University of Rhode Island and requires a final student project in one of the northeast National Parks.  This past year, the class mapped the Ship's Rail as part of a larger data collection project for Gateway.  The students assessed over 4,000 feet of ship's rail, noting different levels of damage, which allowed planners to evaluate the costs and scope of the project.
Repaving the Back Beach Mall began in November and the replacement of the Ship's Rails will finish in spring 2010.The project was funded largely in part by funds appropriated through the Federal Highways Administration's The Safe, Accountable, Flexible, Efficient Transportation Equity Act:  A Legacy for Users (SAFETEA-LU) Program ($269,971) and collected by the National Park Service's The Federal Lands Recreation Enhancement Act (FLREA) Program ($144,345). 
The park is named for Jacob Riis, a famous New York City journalist and photographer who wrote about the plight of the poor and working class. The park was designed in 1936 by innovative Park Commissioner Robert Moses, who had also designed Long Island's Jones Beach in 1929. As with Jones Beach, much of the architecture has a nautical theme, intended to suggest being on board the deck of a great ship.Robert Moses envisioned Riis Park as a Jones Beach for poor immigrants, a destination accessible by public transportation and closer to the city.