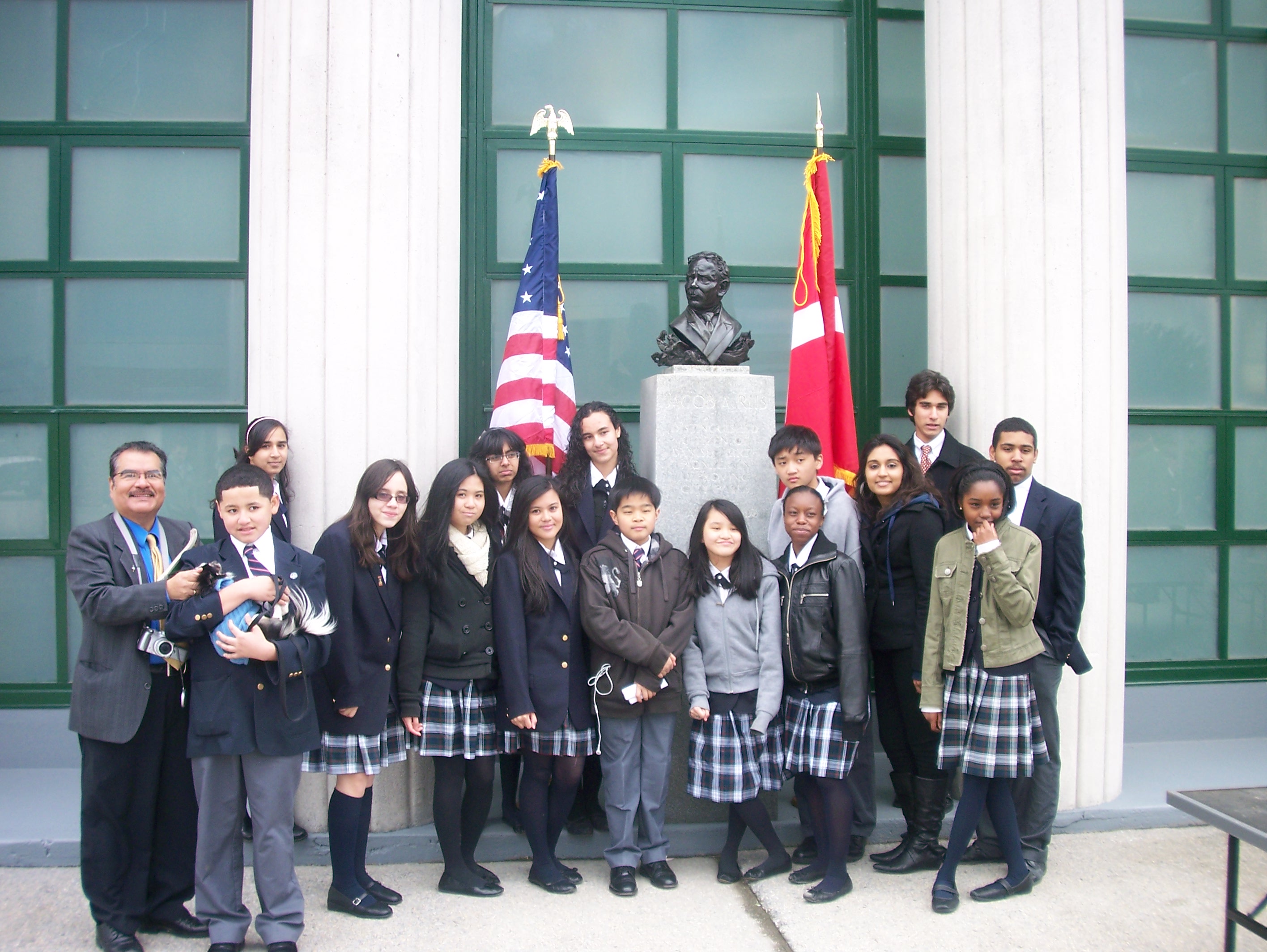 News Release Date:
April 26, 2010 CThanks to teacher Carl Ballenas and the Aquinas Honor Society from the Immaculate Conception School, a new Jacob Riis bust has been installed on the pedestal at Bay 9, the Mall in Riis Park.
Jacob Riis came to America in the 1870's and was one of the first proponents of open spaces in urban park areas. To commemorate his support and passion for parks, a bronze bust in his likeness was placed near Bay 9 at Jacob Riis Park in 1940. Sadly, the bust was stolen from the pedestal in 1964. The Aquinas Honor Society has been working for several years to replace the bust.
The Riis Bust dedication on April 17th included several notable guests -- Congressman Anthony Weiner, Senator Joseph Adabbo, Assemblywoman Audrey Pheffer, the Riis' great granddaughters Nancy Watts and Gretchen Cooke, artist David Ostro, Danish students from Riberhus Privatskole and their principal Lisolette Christensen, and Gateway National Recreation Area General Superintendent Barry Sullivan.
Words of praise and appreciation were spoken by all, especially about the commitment and dedication that the Aquinas Honor Society demonstrated in their mission to return the bust of Jacob Riis to the community.

While studying the rich history of their neighborhood of Jamaica Estates, Queens, they learned that Jacob Riis spent much of his life there. They were so impressed with his life's accomplishments that they chose him as their class "hero."
While researching his life for another school project, they learned about the missing bust and sprang into action. They first contacted the NPS to find out how to donate a new bust. Once they had the full support of the Service, it didn't take them long to convince noted American artist David Ostro to create a new bust to replace the stolen one.  

They even made a connection with a class in Riis' home of Ribe, Denmark. Some students made a visit to Ribe, further inspiring them on their mission to return a new bust to where the old bust had been stolen.

Carl Ballenas and his students never gave up, even when the grant money was frozen and the opportunity to make the bust seemed lost, they worked tirelessly to carry out the project.
"They are not only 'Ambassadors for Riis,' but they are 'Ambassadors for National Parks' as well," added Sullivan. "What better way to kick off National Park Week, than with this celebration of their efforts and of Jacob Riis."