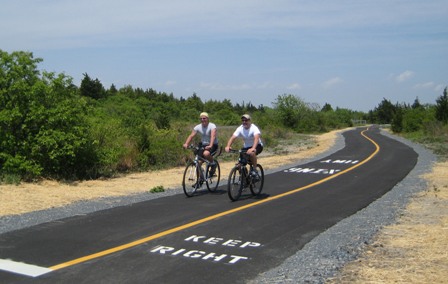 News Release Date:
August 15, 2011
Contact: Raina T. Williams, 718-354-4607
Gateway National Recreation Area seeks public comments from Monday, August 15, 2011, to Friday, September 16, 2011, concerning proposed increases in parking fees at both the Sandy Hook Unit and the Jamaica Bay Unit. The park is also proposing extending fee collection hours at Sandy Hook to 6:00 P.M., as they are today at Jacob Riis Park in Queens. 
The proposed changes would take effect at the beginning of the 2012 beach season. This would be Gateway's first parking fee increase since 2001 at Sandy Hook and the first since 2004 at Riis Park.
"Proposing a fee increase is not a step the park takes lightly, especially during these economically trying times" said Superintendent Linda Canzanelli. "Many families cannot afford to take vacations in distant locations, so they depend more than ever on nearby parks as places they can get away." Canzanelli stated that the parking fees are used, in part, to hire lifeguards, maintain beach restrooms and showers and to keep both visitors and resources safe.
Even with the proposed increases, a visit to Gateway's beaches will remain within the means of everyday Americans. The proposed parking fees compare favorably with nearby state and local beaches, where the charge is usually per person, not per vehicle. For more information, see the Parking Fee FAQs page on the park website at https://www.nps.gov/gate/parkmgmt/parking-fee-FAQs.htm
Visiting non-beach areas will remain free. This includes access to the Sandy Hook Lighthouse, Floyd Bennett Field in Brooklyn, Fort Hancock at Sandy Hook, Fort Wadsworth in Staten Island and Jamaica Bay Wildlife Refuge in Queens. These will all remain free.
Sandy Hook
Current Fees
Daily: $10 per vehicle
Season Pass: $50 per vehicle
Oversized vehicle (20') daily: $25
No Season Pass for Oversized Vehicles
Proposed Fees
Daily: $20 per vehicle for two consecutive days
Season Pass: $100 per vehicle
Oversized vehicle (20') daily: $50
Season Pass, Oversized Vehicle: $150 per vehicle
Jamaica Bay
Current Fees
Daily: $5 per vehicle
Season Pass: $40 per vehicle
Oversized vehicle (20') daily: $25
Proposed Fees
Daily: $10 per vehicle for two consecutive days
Season Pass: $65 per vehicle
Oversized vehicle (20') daily: $50 per vehicle
Visitors with Senior or Access Passes would be charged half price for parking, as they are currently.
Parking fees charged at Sandy Hook and Jamaica Bay Units are authorized through the Federal Lands Recreation Enhancement Act of 2004 (FLREA), which allows 80% of the revenue collected at Gateway to remain in the park.
Since 2001, Gateway has used parking fees to make improvements to visitor services,including: rehabilitating campgrounds and the Ryan Visitor Center at Floyd Bennett Field; expanding docking facility at Sandy Hook; paving the Multi-Use Path at Sandy Hook; repairing the boardwalk at Riis Park; building a sand slurry for beach replenishment at Sandy Hook; rehabilitating Frank Charles Park in Queens; refurbishing restrooms and beach stations throughout Gateway; and, operations such as lifeguard program, traffic control and law enforcement.
As required by FLREA, Gateway will allow visitors to participate in the development of, or change to, a recreation fee established under the Act. Visitors may write comments via email at e-mail us. Park staff will also reach out to beach visitors through Labor Day to collect general thoughts about this proposed fee increase.
The comment period will be open for thirty days, from Monday, August 15 through Friday, September 16. Gateway will consider all opinions before making a final decision.
About Gateway National Recreation Area
Established in 1972, Gateway National Recreation Area has more than 26,000 acres of marshes, wildlife sanctuaries and recreational athletic facilities, miles of sandy beaches; indoor and outdoor classrooms; picnicking and camping areas, as well as historic structures and military installations, airfields, a lighthouse, and adjacent waters around New York harbor. The park offers urban residents in two states a wide range of recreational opportunities year round. With more than nine million visitors a year, it is the third most visited national park in the country. For information about Gateway's upcoming public programs, see the park's Web site at https://www.nps.gov/gate/index.htm
-NPS-