Two piping plover nests vandalized, eggs stolen at Breezy Point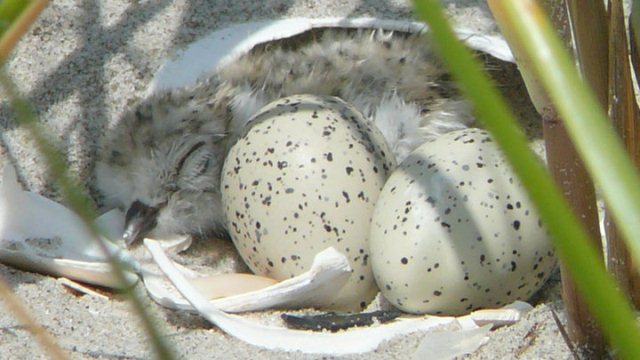 News Release Date:
July 19, 2012
Contact: John Harlan Warren, 718-354-4608
Two piping plover nests were vandalized in two locations within the protected nesting area at Breezy Point, part of Gateway National Recreation Area, on the night of July 3.
In both cases, the netting that protects the exclosures was ripped open and all the eggs inside were stolen. A single set of human tracks approached the exclosures and proceeded east. Park staff discovered the vandalism while monitoring active nests the following morning. U.S. Park Police is investigating this environmental crime, along with the U.S. Fish and Wildlife Service.
"At Gateway and for all of us who love animals, protecting endangered and threatened wildlife is one of our core responsibilities," said Superintendent Linda Canzanelli. "Killing or harassing adult plovers or their chicks, and removing or crushing their eggs is a crime against this mild-mannered species, which needs our protection to avoid extinction. It is cowardly and wrong. And it is a felony. Help us by educating your family and friends so we can work together to protect this wonderful bird."
The Atlantic Coast piping plover population is designated as threatened under the federal Endangered Species Act (ESA) and is considered endangered under New York State Environmental Conservation Law. The penalty for an individual who is convicted of a first offense felony violation of the ESA is a $5,000 fine and/or five-year imprisonment. Piping plovers receive additional protected status under the federal Migratory Bird Treaty Act (MBTA). Individuals convicted of violating the MBTA can be fined $5,000 to $250,000 or may serve up to two years in prison.
Those with information about this crime may contact U.S. Park Police at 718-338-3988.
Last updated: February 26, 2015