Date:
January 28, 2010
Contact:
Jane Ahern
, 718-354-4607 or 917-299-3843 (cellular)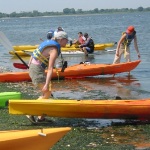 Beginning February 1, 2010 visitor activity permits for Gateway National Recreation Area will be available at each of the park's three Units. "We look forward to another year of great recreational opportunities at the park," said Superintendent Barry Sullivan. "Now is a good time to plan ahead and get your fishing, off-beach access, boating and other activity permits."
At the Jamaica Bay Unit of the park, fishing, off-road beach access, kayak and canoe launch, and surfing permits will be available. Visitors can purchase these permits at the Ranger Station (Building 135) at the entrance to Floyd Bennett Field, just north of the Marine Parkway Bridge on Flatbush Avenue in Brooklyn, New York. Permits will no longer be sold at the Riis Park Bathhouse. The Ranger Station is currently open daily, from 9:00 a.m. - 4:00 p.m. but will be closed on Mondays from February 15th through March 31st. For more information about Jamaica Bay Unit permits and their availability call (718) 338-3799.
The Gateway fishing permit is required at all fishing sites in Brooklyn, Queens and Staten Island, and for night fishing at Sandy Hook, NJ. Gateway fishing permits are also sold at the Sandy Hook Unit at the Sandy Hook Visitor Center (Open 10 AM -5 PM daily) and the Sandy Hook Ranger Station (24 hours, daily). Call the Sandy Hook Unit at (732) 872-5970 or the Staten Island Unit at (718) 987-6790 for information on fishing permit sales at those locations.
For detailed information about other Staten Island Unit visitor activity permits call the Miller Field Ranger Station at (718) 351-6970 or the Great Kills Ranger Station at (718) 987-6790.
The cost for the activity permits for is $50 each. The 2010 permits can be obtained in-person only by check, cash or money order. The permits are valid for the calendar year.
New York State now requires all anglers to obtain a New York State Marine Fishing License to fish in any waters within New York State. A valid 2010 license must be presented in order to purchase the Gateway NRA fishing permit. Locations to purchase that permit may be found by calling 311 or visiting the New York State Department of Environmental Conservation website at www.dec.ny.gov.
EXPERIENCE YOUR AMERICA The National Park Service cares for special places saved by the American people so that all may experience our heritage. ™