Gateway Hosts Outdoor Nation Youth Summit at Floyd Bennett Field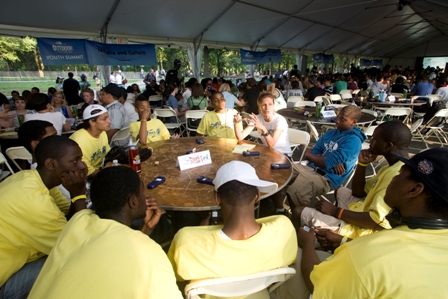 News Release Date:
June 22, 2011
Contact: Raina T. Williams, National Park Service, 718-354-4607
Contact: Jamie Patten, Outdoor Nation, 202-538-1714 (cell)
Gateway National Recreation Area welcomes Outdoor Nation, a youth-led organization championing outdoor recreation, which will hold a summit at the park's Floyd Bennett Field June 24-26. The summit will draw 250 young adults as delegates from the northeastern United States. Delegates will camp overnight at Floyd Bennett Field's expanding campgrounds.
"Gateway is delighted that Outdoor Nation is coming to Floyd Bennett Field to organize, hike, bike, kayak and camp in the park," said Superintendent Linda Canzanelli. "Young people are our best ambassadors because they promote parks to their families, friends and neighbors."
On Sunday, June 26, Outdoor Nation invites the local community to join delegates for Summer Fun Day, which will take place from 12 noon to 5:00 P.M. at Aviator Sports and Events Center. Families and individuals can participate in outdoor games, kayak and sail in Jamaica Bay with the National Park Service, bicycle along Floyd Bennett Field's paved roads and runways and engage in bird watching and family camping fun. There will also be free raffles, with hundreds of prizes to give away.
According to the book Nature Deficit Disorder by Richard Louv, America's youth are losing their connections with nature. Closures and cutbacks at local, state and national parks have made this deficit more acute. Outdoor Nation wants to help all Americans, particularly young people, connect with outdoor recreation and exercise-a goal shared by the White House.
"The President's America's Great Outdoors initiative and the First Lady's Let's Move Outside! initiative teach and open up access for our nation's youth to reap the many benefits of outdoor recreation - from improved mental and physical health, to better academic performance and reduced stress," said Nancy Sutley, Chair of the White House Council on Environmental Quality."Outdoor Nation is advancing this goal by empowering thousands of young leaders across America to strengthen the connection between health and the outdoors in their communities."
Outdoor Nation encourages the Millennial generation to spend more time being active in America's Great Outdoors. The organization also teaches delegates the skills needed to develop solutions to the outdoor deficit and to be effective organizers and strategists for the promotion of outdoor recreation among youth and within their own communities.
The summit is one of five to be held this summer. In June 2010, Outdoor Nation held its initial summit in New York City, with 500 young adults from all 50 states in attendance. The other four regional summits will take place in San Francisco, Atlanta, Denver and Minneapolis, drawing delegates from all 50 states.
"Outdoor Nation provides a chance to connect with America's young people and encourage them to take advantage of the superb recreational, job, and service opportunities on our public lands and waters," said Secretary of the Interior Ken Salazar. "Last year's kick-off event in Central Park was a great success, and we look forward to participating in additional youth summits this summer and finding ways to better connect America's youth to the Great Outdoors."
Outdoor Nation delegates are a diverse group of youth leaders aged 16 to 28, chosen from online applications as well as nominations from partners. Delegates coming to Floyd Bennett Field will consider how to engage young people in the outdoors, with particular focus on regional issues. The ideas which receive the most votes will receive funding from the Outdoor Foundation to carry out these projects.
The National Park Service is one of several co-sponsors of the event, along with America's State Parks and several non-profit and for-profit organizations.

About Gateway National Recreation Area
Established in 1972, Gateway National Recreation Area has more than 26,000 acres of marshes, wildlife sanctuaries and recreational athletic facilities, miles of sandy beaches; indoor and outdoor classrooms; picnicking and camping areas, as well as historic structures and military installations, airfields, a lighthouse, and adjacent waters around New York harbor. The park offers urban residents in two states a wide range of recreational opportunities year round. With more than nine million visitors a year, it is the third most visited national park in the country. For information about Gateway's upcoming public programs, see the park's Web site at https://www.nps.gov/gate/index.htm
-NPS-
Last updated: February 26, 2015