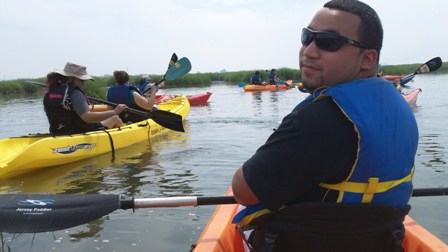 News Release Date:
September 22, 2011
Contact: Raina T. Williams, 718-354-4607
NEW YORK - Gateway National Recreation Area will commemorate National Public Lands Day this September 24, and National Hispanic Heritage Month with an array of events around the park led by "Tu Parque, Tu Salud" interns who are focused on promoting health and fitness in Spanish-speaking communities in Brooklyn and Queens.
"This is a prime opportunity to mark two significant celebrations with activities that honor our country's open land and the contributions of Hispanic and Latino Americans," said Superintendent Linda Canzanelli. "Our national parks are open to everyone and all Americans, including Hispanic and Latino Americans, have helped make national parks, especially Gateway, a place to enjoy." Canzanelli said National Public Lands Day offers a chance for the local communities to participate in a spirit of volunteering to conserve our valuable parks and beaches for future generations to enjoy.
Since last May, the "Tu Parque, Tu Salud" pilot program, funded in part by the local American Heart Association's "Tu Corazón" initiative and supported by the National Parks of New York Harbor Conservancy, has brought together some of New York City's finest young people. The program participants have brought the community out to sail, kayak, bike and camp in many parts of Gateway in an effort to get healthy exercise and help people reconnect with nature, supporting President Barack Obama's recently launched America's Great Outdoors Initiative.
For the past 18 years, national parks throughout the country have celebrated National Public Lands Day supporting activities that allow visitors to enjoy the day and volunteer their time conserving public lands. Past year's events around the country have included an initiative to plant one million trees and as part of the celebration.
To kickoff all the coming month's events, Tu Parque, Tu Salud invites the community to participate in these free activities:
National Public Lands Day Beach Clean-up
Saturday, September 24th
Canarsie Pier 11 am - 1 pm
Floyd Bennett Field 10 am - 3 pm
Come out and help clean the beaches of Brooklyn. All supplies are provided, but bringing a picnic lunch is encouraged. RSVP by calling 718-354-4530 x221 or x225 and to get to Floyd Bennett Field, take the Q35 bus to Aviator Sports. Shuttle transportation will be provided hourly to and from the clean-up site.
Historic Aircraft Tour and Fort Tilden Bike Ride
Saturday, October 1st
Noon Sharp - 4 pm *(Reservations are required) 718-354-4530 x221
Set out on a bike adventure through Floyd Bennett Field to visit historic Hangar B. From there, ride over the bridge into Fort Tilden to explore secluded beaches and World War II military sites. Bring a picnic lunch! Bikes will be provided or bring your own!
Family Camping at Floyd Bennett Field
Saturday, October 8th - Sunday, October 9th
Meet at 3 pm Saturday - Ends at 2 pm Sunday *(Reservations are required) 718-354-4530 x221
No tent needed, come out and enjoy an evening under the stars with friends and family - Right in Brooklyn! Fun and adventure for all ages! Tents and sleeping pads provided.
Nature and History Hike in Fort Tilden
Saturday, October 15th
NOON Sharp - 4 pm Meet at Floyd Bennett Field Ranger Station
Take an invigorating walk across the Marine Parkway Bridge to historic Fort Tilden. Explore underground military bunkers and use binoculars to spot hawks, falcons and other migrating shorebirds. Bring a picnic lunch and stop to enjoy one of the least known and best views in all of NYC!

About Gateway National Recreation Area
Established in 1972, Gateway National Recreation Area has more than 26,000 acres of marshes, wildlife sanctuaries and recreational athletic facilities, miles of sandy beaches; indoor and outdoor classrooms; picnicking and camping areas, as well as historic structures and military installations, airfields, a lighthouse, and adjacent waters around New York harbor. The park offers urban residents in two states a wide range of recreational opportunities year round. With more than nine million visitors a year, it is the third most visited national park in the country. See Gateway's upcoming public programs here.