New Pilot Park Shuttle Bus at Jamaica Bay
Date:
August 17, 2009
Contact:
Brian Feeney
, 718-354-4606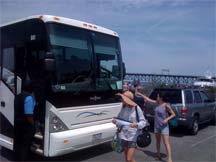 Ride the Bus, It's Free!
Jamaica Bay Visitor Shuttle Pilot Program 
The Implementation Phase of the Jamaica Bay Alternative Transportation Feasibility Study, 
conducted by U. S. DOT Volpe Transportation Systems Center, was completed May 2009. As a result of this study Gateway National Recreation Area is providing a free shuttle service this summer.
The Pilot Program will run from August 1st though Labor Day (2009) on Saturdays and Sundays from 10:00 a.m until 6:00 p.m..
It will provide two cost-free, handicapped accessible  bus shuttles to transport park visitors from:

a).  Riis Landing to points of visitor interest on Floyd Bennet Field  (Five Stops / Six round trips on Saturdays and Sundays)
b).  Riis Landing to points of visitor interest on Riis Boardwalk, enroute to Jamaica Bay Wildlife Refuge: (Four Stops / Four round trips on Saturdays and Sundays)
Metro Travel Services is the company that will run the pilot program's shuttles. "We think this shuttle provides a great link for visitors who take the ferry service to Riis Landing to get to sites around Jamaica Bay," said General Superintendent Barry Sullivan. "Having National Park Service Rangers on board the shuttle is an extra feature that we hope will help visitors learn more about the sites they are visiting and orient passengers to the different routes offered." 

The Pilot Program is funded by the Jamaica Bay Alternative Transportation Feasibility Study.

Shuttle Services:
Route A - Riis Landing to Jacob Riis Park, Jamaica Bay Wildlife Refuge and Return Service
Route B - Riis Landing to Floyd Bennett Field with Return Service
Last updated: April 26, 2018