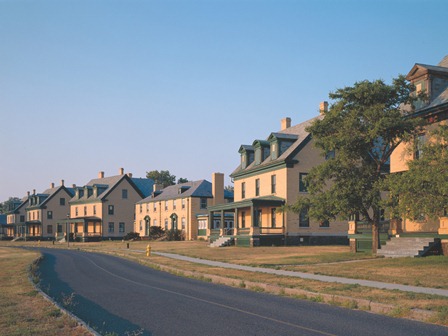 News Release Date:
December 20, 2013
Contact: Daphne Yun, 718-354-4602
 New Leases on Life at Fort Hancock
Gateway receives dozens of responses to its Request for Expressions of Interest
Gateway National Recreation Area has received 39 responses to its Request for Expressions of Interest (RFEI) in rehabilitating historic structures at the Fort Hancock Historic Landmark District, located in the park's Sandy Hook Unit.  The park issued this RFEI in October, and hosted three open houses which attracted approximately 175 attendees.
"We are very excited to receive such a large number of new and diverse ideas on how to adaptively reuse these century-old buildings," said Superintendent Jennifer Nersesian.  "With the Fort Hancock 21st Century Advisory Committee, the park can focus on preserving these wonderful buildings so that a rehabilitated Fort Hancock can provide another century of service to the community."
Responses suggest a variety of uses for the historic buildings from those who are interested in rehabilitating former officer family quarters for personal use or as small "bed-and-breakfasts" to not-for-profits and businesses wishing to enhance visitor service at the park.  The proposals will be placed online at www.forthancock21stcentury.org over the next couple of weeks.
"The National Park service has learned a great deal from the last effort to rehabilitate Fort Hancock," said Nersesian, "and we continue to learn by being open and by listening to the community."
"Now that we have received the responses, the Committee and the park can study these ideas to develop plans for a new community in the former Army fort," said Committee Co-Chair John Reynolds.
The park will discuss next steps at the January meeting of the Fort Hancock 21st Century Advisory Committee including a possible Request for Proposals.  The meeting will take place Friday, January 10 at the Sandy Hook Chapel, beginning at 9 AM.  The meeting is open to the public and a public comment period will take place at 1 PM.
About Fort Hancock
Fort Hancock is located at the tip of Sandy Hook at the entrance to the lower New York Harbor, and played a major role in the harbor defense of New York City.  British and Loyalist troops occupied Sandy Hook during the American Revolution, and the location was again fortified during the War of 1812 and the years prior to the American Civil War.  Fort Hancock, a permanent fort, was established in 1895 and operated until it was deactivated in 1974.
About Gateway National Recreation Area
Established in 1972, Gateway National Recreation Area offers more than 26,000 acres of marshes, wildlife sanctuaries and recreational athletic facilities, miles of sandy beaches; indoor and outdoor classrooms; picnicking and camping areas, as well as historic structures and military installations, airfields, a lighthouse, and adjacent waters around New York harbor.  The park offers urban residents in two states a wide range or recreational opportunities year round.  Gateway is one of the ten most visited national parks in the country.  For more information about Gateway's upcoming public programs, see the park's Web site at www.nps.gov/gate.  To join the conversation about Gateway, like us on our Facebook page at www.facebook.com/Gatewaynps.