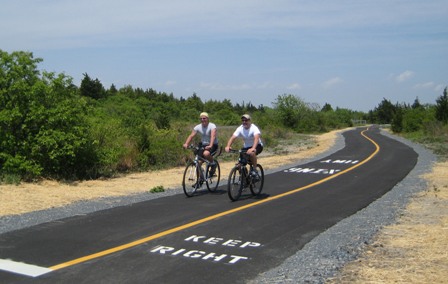 News Release Date:
July 16, 2014
Contact: Pete McCarthy, 732-872-5913
(Sandy Hook, NJ)—The National Park Service (NPS) welcomes public comment and regulatory review of an Environmental Assessment (EA) to extend the Multi-Use Path (MUP) at Gateway National Recreation Area's Sandy Hook Unit. Comments are due by August 29, 2014.
This Phase 3 extension of the current MUP would close gaps in the existing trail system so that pedestrians and bicyclists could access more areas of Sandy Hook in a safe and enjoyable manner, without needing to share roads with motor vehicles.
The EA examines three alternatives: a no action alternative (alternative A) and proposed improvements (alternatives B and C). Alternative B was identified as the NPS preferred alternative because it best meets the project's purpose of and need for action while protecting natural and cultural resources to the greatest extent practical.
The preferred alternative would extend the existing MUP approximately 1.4 miles through the construction of three new segments. One segment would be constructed through the Nine Gun Battery; one segment would be constructed along the east side of Magruder Road, between the existing MUP near Guardian Park and the trail plaza at the Mortar Battery; and one segment would be constructed between the intersection of Magruder and Gunnison Roads and Gunnison Beach. More information, including maps and photos of the areas, can be found within the EA.
The ongoing participation of the public is very important to the success of this project. Information about the project and the EA will be posted on the NPS Planning, Environment, and Public Comment (PEPC) website at https://parkplanning.nps.gov/gate beginning July 28, 2014. To share your thoughts, ideas, and concerns with us, we encourage you to comment electronically via the NPS PEPC website.
You are also welcome to mail comments directly to the following address:
Pete McCarthy, Unit Coordinator
Sandy Hook Unit, Gateway National Recreation Area
26 Hudson Road
Highlands, New Jersey 07732
Before including your address, phone number, e-mail address, or other personal identifying information in your comment, please be aware that your entire comment, including personal identifying information, may be made publicly available at any time. Although you may ask us to withhold your personal identifying information from public review, we cannot guarantee that will be able to do so.
About Fort Hancock and Sandy Hook Proving Ground National Historic Landmark
Fort Hancock is located within the Sandy Hook Units of Gateway National Recreation Area. The peninsula has played a major role in the defense of New York Harbor from colonial days to the present. Fort Hancock, a U.S. Army fort, was established in 1895 and operated until it was deactivated in 1974.
About Gateway National Recreation Area
Established by an Act of Congress in 1972, Gateway National Recreation Area spans three New York City boroughs and two states. Park lands include more than 26,000 acres of marshes; wildlife sanctuaries; recreational athletic facilities; miles of sandy beaches; indoor and outdoor classrooms; picnicking and camping areas; historic structures including military installations, airfields and lighthouses. Gateway is one of the ten most visited national parks in the country. For information about Gateway's upcoming public programs, see the park's Web site at https://www.nps.gov/gate/index.htm.To join the conversation about Gateway, like us on our Facebook page www.facebook.com/Gatewaynps. Our Instagram page can be found at https://www.instagram.com/gatewaynps.
--NPS--