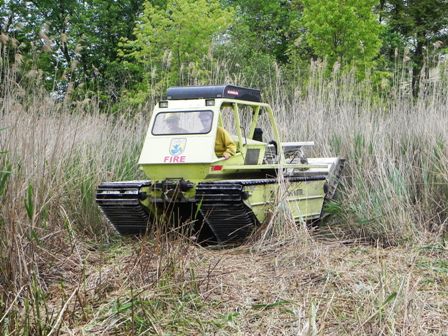 News Release Date:
May 15, 2012
Contact: Reina T. Becnel, 718-354-4607
Contact: Paige Gunther (SI Borough President's office), 718-816-2092
Thanks to funds available through the federal government's Hazards Fuel Mechanical Treatment Project, Gateway National Recreation Area has started to protect Staten Islanders from phragmites wildfires by creating firebreaks in key high risk areas along the island's southeastern shore. A press conference is scheduled Thursday, May 17, 2012 in an open area on Kissam Avenue to mark this ongoing effort.
"When more than 100 acres burned on Staten Island in September 2010, we were lucky," said Superintendent Linda Canzanelli. "No lives or homes were lost, but the risk is too great to our residents, businesses and visitors." Canzanelli said that this partnership among city, state and federal officials tackles the risk of wildland fire head-on.
Phragmites, a tall grass that spreads through underground rhizomes in marsh areas, is the primary hazardous fuel for wildfires on Staten Island. After the 2010 phragmites brushfires, discussions on how to minimize future potentially deadly fires began between the National Park Service, key city agencies and the borough president's office.The mowing project, which began in May, is the direct result of this partnership.
Last month, with the assistance of Sen.Charles Schumer, a Memorandum of Agreement was reached by Gateway, the Staten Island Borough President's office, the New York City Department of Parks and Recreation and the New York City Department of Environmental Protection. This memorandum pools the skills and resources of city, state and federal agencies, including the New York State Department of Environmental Conservation, to reduce the risk of urban wildfires on public and private lands.Mowing began May 1 in areas near the Oakwood Beach Sewage Treatment facility and will continue in historically high risk areas of Staten Island's southeastern shore through the end of September.
"Staten Island residents are finally starting to get relief from the phragmites that have been the cause of so many deadly brushfires and a constant threat to homeowners," said Schumer. "After securing much needed federal funds to finally address the phragmites problem on Staten Island, and working with Borough President Molinaro to finalize an agreement with city agencies, I'm glad to see this work getting underway. I applaud the National Park Service and Gateway National Recreation Area for being proactive and taking the lead on the initial mowing while the Community Wildfire Protection Plan is completed."
Borough President James P. Molinaro of Staten Island stated, "I would like to thank Senator Schumer along with the National Park Service and Venetia Lannon, Regional Director of the New York State DEC for their efforts to finally make this long requested project a reality. We are very grateful to have the phragmites mowing program in use in the high risk areas along the island's South Shore. The mowing program allows us to better protect the lives and property of the residents in these areas."
The mowing operation includes hand-held brushcutters and the use a MarshMaster, on loan from the U.S. Fish and Wildlife Service and operated by their employees. The MarshMaster is a large, yet lightweight vehicle capable of mowing marsh areas without sinking into soft ground. This creates firebreaks, which give firefighters a safe place to battle blazes while creating a protective buffer for homes and property. This is the first time large-scale preventative maintenance has been instituted to fight phragmites fires on Staten Island. Three rounds of mowing will take place between now and the end of summer.
Each treatment will take place in an area identified as high risk for wildfires by the draft Community Wildfire Protection Plan (CWPP). The draft CWPP is currently under review by state and city agencies to ensure adherence to environmental compliance regulations. While the CWPP awaits final approval, the Memorandum of Agreement allows the removal of hazardous fuels to begin right away.
Gateway National Recreation Area currently ranks fourth among national parks in the number of fires. Gateway includes Great Kills Park, Miller Field and Fort Wadsworth on Staten Island, as well as areas of Brooklyn, Queens and Highlands, N.J.
About Gateway National Recreation Area
Established in 1972, Gateway National Recreation Area offers more than 26,000 acres of marshes, wildlife sanctuaries and recreational athletic facilities, miles of sandy beaches; indoor and outdoor classrooms; picnicking and camping areas, as well as historic structures and military installations, airfields, a lighthouse, and adjacent waters around New York harbor. The park offers urban residents in two states a wide range of recreational opportunities year round. With more than nine million visitors a year, it is the third most visited national park in the country. For information about Gateway's upcoming public programs, see the park's Web site at https://www.nps.gov/gate/index.htm
--NPS--