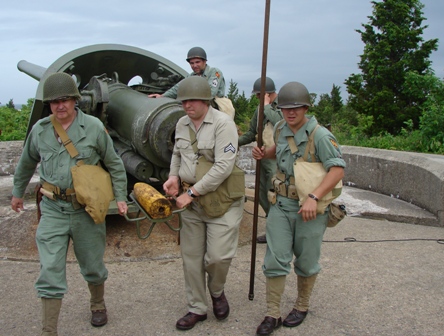 News Release Date:
May 17, 2012
Contact: Rance Robeson, 718-354-4606
To show our appreciation for those who serve in the U.S. Military, on May 19 - Armed Forces Day - the National Park Service will begin issuing an annual pass offering free entrance to all 397 national parks for active duty military members and their dependents.
"Military history is a cornerstone of Gateway," said Superintendent Linda Canzanelli. "Military families - not just active personnel, but their families as well - inspire us with their service.It is an honor for us in the National Park Service to serve them in return." Several areas of the national park formerly served the nation as military bases: Fort Hancock at Sandy Hook, Floyd Bennett Field in Brooklyn, Fort Tilden in Queens and Fort Wadsworth on Staten Island. Even today, U.S. Coast Guard personnel serve on the Sandy Hook peninsula and at Fort Wadsworth.
Visit www.nps.gov/findapark/passes.htm for more information about the military pass. The pass is available at any national park that charges an entrance fee. Find a list of national parks with entrance fees at https://www.nps.gov/findapark/feefreeparksbystate.htm.
Gateway does not charge an entrance fee, but is issuing the pass at the two areas of the park which charge parking fees, Jacob Riis Park in Queens and Sandy Hook in Highlands, N.J. Gateway will honor the pass at areas where parking fees are charged.
This military version of the America the Beautiful National Parks and Federal Recreational Lands Pass also permits free entrance to sites managed by the U.S. Fish & Wildlife Service, the Bureau of Land Management, the Bureau of Reclamation, and the U.S. Forest Service. The pass is also available at these locations.
"Through the years, military members, especially those far from home in times of conflict, have found inspiration in America's patriotic icons and majestic landscapes, places like the Statue of Liberty and the Grand Canyon that are cared for by the National Park Service and symbolize the nation that their sacrifices protect," said National Park Service Director Jonathan B. Jarvis. "This new pass is a way to thank military members and their families for their service and their sacrifices."








National parks and the military have strong ties going back to the establishment of
Yellowstone
as the world's first national park in 1872. The U.S. Cavalry watched over America's national parks and did double duty, serving as the first park rangers until the National Park Service was created 44 years later. During World War II, many parks were set aside for the training and care of military personnel. Today, dozens of national parks commemorate military battles and achievements.
About the National Park Service
More than 20,000 National Park Service employees care for America's 397 national parks and work with communities across the nation to help preserve local history and create close-to-home recreational opportunities. Learn more at www.nps.gov.
About Gateway National Recreation Area
Established in 1972, Gateway National Recreation Area offers more than 26,000 acres of marshes, wildlife sanctuaries and recreational athletic facilities, miles of sandy beaches; indoor and outdoor classrooms; picnicking and camping areas, as well as historic structures and military installations, airfields, a lighthouse, and adjacent waters around New York harbor. The park offers urban residents in two states a wide range of recreational opportunities year round. With more than nine million visitors a year, it is the third most visited national park in the country. For information about Gateway's upcoming public programs, see the park's Web site at https://www.nps.gov/gate/index.htm