Fun For All Ages at the Junior Rangerpalooza!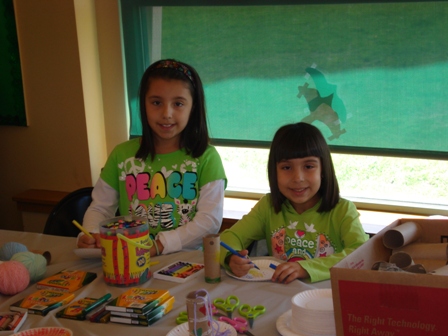 News Release Date:
April 30, 2010
In an effort to celebrate National Park Week and Junior Ranger Day, "Junior Rangerpalooza" was held at the newly adorned Great Kills Education Field Station on Saturday April 24, 2010. 
"We couldn't have asked for a better day!" said Interpretation & Education Supervisor, Geri Kobryn-Blatter.  Blue skies and sunshine welcomed over 50 children and adults from Staten Island to the field station for a fun filled day.
Activities included face painting, bird watching, making crafts using recycled materials, and helping out wildlife by making bird silhouettes to prevent collisions with field station windows.  Thanks to the perfect wind, visitors tried their hand at aerial photography using a kite equipped with a small digital camera.  The photos that were taken were uploaded to a lap top where they could view their shots.  Visitors were also able to participate in a Crooke's Point scavenger hunt and an interactive demonstration of coastal pollution and prevention using an EnviroScape®.  Park information and giveaways were shared with all who came by.
Throughout the day, a new generation of park stewards were created as the excited children took the Junior Ranger Oath and earned a badge and certificate for their promise of environmental protection and awareness. 
A special thanks to all employees who did their green part in National Park Week by donating their empty paper towel and toilet paper rolls. The children were able to give them new life by creating beautiful take-home crafts!
Last updated: February 26, 2015