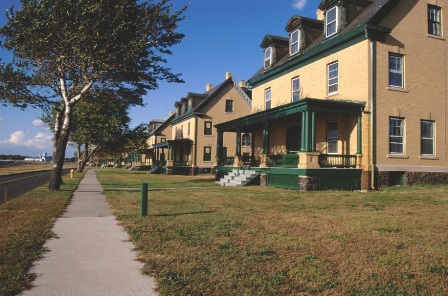 News Release Date:
November 5, 2013
Contact: John Warren, 917-299-3843
WHAT: Tour buildings in Sandy Hook's Fort Hancock Historic Landmark District, with priceless views of New York Harbor, now available to investors for adaptive reuse.  Gateway National Recreation Area is offering 35 former Army buildings for long term leases for commercial or non-profit entities through a Request for Expressions of Interest (RFEI).
WHO:  Tour conducted by park staff, including Gateway Superintendent Jennifer T. Nersesian, and representatives of the Fort Hancock 21st Century Advisory Committee, a Federal Advisory Committee appointed by the Secretary of Interior in 2012.  
WHEN:  Friday, November 8 beginning at 10 A.M.  Tour is expected to last 90 minutes to two hours.  Please RSVP to John_Warren@nps.gov by Thursday at 12 noon.
WHERE:  Tour begins at Building 26 of Sandy Hook's Fort Hancock.  For driving directions, see https://www.nps.gov/gate/planyourvisit/sandyhookdrivingdirections.htm.  Tentative schedule includes Buildings 2, 25, 54, 22, 20 and 18.  More information about these and other buildings in the RFEI can be found on the Committee website at www.forthancock21stcentury.org/realproperty.
NOTE:  The National Park Service, with the aid of the Fort Hancock 21st Century Advisory Committee, seeks interested parties to lease, restore and repurpose desirable historic structures in a spectacular location.  This is the first step in preserving Fort Hancock's historic landscape by transforming former Army buildings to serve modern uses.Other National Park Service RFEIs and Requests for Proposals (RFPs) can be found here:  https://concessions.nps.gov/news.htm.