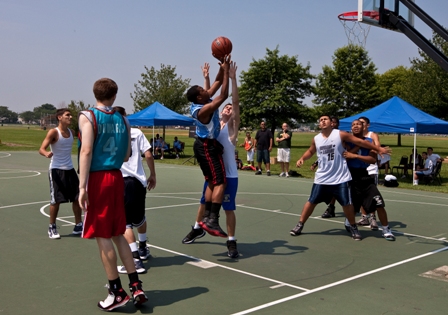 News Release Date:
July 28, 2009
Contact: Brian Feeney, 718-354-4606
Teams "hooped it up" at Gateway's second annual 5-on-5 Basketball Tournament held last week at Miller Field. The tournament spans four weekends over the course of the summer, with the most recent tournament held on July 25. "It was a huge success," said tournament organizer and NPS Recreational Specialist Earnestine Robinson. "The weather was great too."
Girls and boys ages 15-16 years old, from both Staten Island and Long Island, participated in the National Park Service sponsored basketball tournament. First, second, and third place prizes were awarded to the winning teams. Basketball medals were given to all participants. The Rising Stars won 44 - 34 against Rising Stars 2  for first place in the Girls Division. In the Boys Division Staten Island Finest defeated the Ballers 48 - 41 for first place.
Registration for this summer's tournaments is complete and the final tournament takes place August 1, 2009.
Miller Field was named for Captain James Ely Miller, who was the first American aviator killed in combat in France during World War I. In 1929 Admiral Richard Bird used the airfield to test his new plane and to make final preparations before his historic flight over the South Pole. Today, Miller Field serves as the site of many sports and recreation facilities as well as offering an escape to nature for many New Yorkers. Its Swamp White Oak Forest is known locally as a secluded spot to see a wide variety of birds.
The field was once an extensive freshwater wetland which was converted to a working farm by the Vanderbilt family. In 1919 the Vanderbilts sold the property to the U.S. government for use as an Army Air Corps base. Designed to supplement already established coastal defenses, Miller Field reflects the early experimental years of aviation when runways were made of grass. This aspect of Staten Island's history can be explored through exhibits on display at the Ranger Station, Building 26.
The National Park Service acquired Miller Field in 1974 and made extensive renovations to the site. It is currently a popular recreation area with 187 acres of open grounds, home to a variety of sports fields, a bocce court, playgrounds, and picnic area. Altogether, there are 80 leagues and 2,000 teams that enjoy Miller Field's sports facilities throughout the year. In 2008 the field saw more renovations, with additional parking and new sidewalks and trails added.