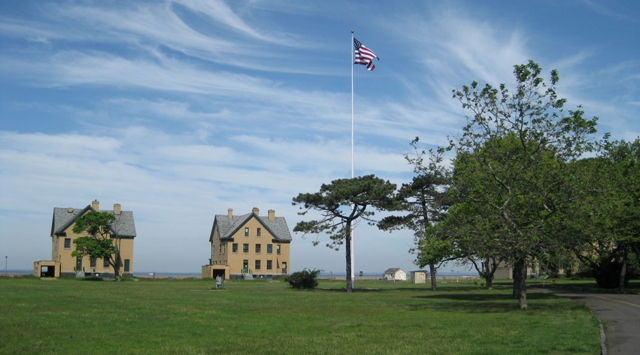 News Release Date:
October 22, 2013
Contact: Daphne Yun, 718-354-4602
Gateway Seeks New Uses for Historic Buildings at Fort Hancock
The National Park Service, in cooperation with the Fort Hancock 21st Century Federal Advisory Committee, is seeking interested parties to redevelop historic structures in the Sandy Hook Unit of Gateway National Recreation Area.  This Request for Expressions of Interest (RFEI) invites plans that would transform the use of historic buildings and invest in park resources.  Adaptive reuse of historic buildings would bring us one step closer to saving Fort Hancock's historic landscape.  Fort Hancock's buildings have survived for over a century, including most recently Hurricane Sandy.  Once restored, they will continue to offer recreational, cultural and educational opportunities.
"The Advisory Committee Members share a commitment to helping the park identify creative and visionary choices for the future use of this magnificent site," said Gerard Glaser, co-chair of the Federal Advisory Committee.  "We feel that this is a terrific time and place for the right entrepreneurs to preserve these buildings and the community that we all love.
"The National Park Service is looking for the right partner(s) to join us and envision a new beginning for these important historic structures," stated Acting Superintendent Suzanne McCarthy.  "We believe that this is a wonderful opportunity for the rebirth of Fort Hancock and look forward to an exciting future.,"
The RFEI (https://www.nps.gov/gate/parkmgmt/upload/RFEIsm-re23Oct2013-2-final.pdf) was published on October 22, 2013.  Submissions are due by 5 pm on December 16, 2013.  Individuals, governmental agencies, not-for-profit and for-profit organizations are welcome to submit proposals.  All legal uses will be considered.  Interested respondents can submit questions to FortHancock21stCentury@yahoo.com.
About Fort Hancock
Fort Hancock is located at the tip of Sandy Hook at the entrance to the lower New York Harbor, and played a major role in the harbor defense of New York City.  British and Loyalist troops occupied Sandy Hook during the American Revolution, and the location was again fortified during the War of 1812 and in the years prior to the American Civil War.  Fort Hancock, a permanent fort, was established in 1895 and operated until it was deactivated in 1974.
About Gateway National Recreation Area
Established in 1972, Gateway National Recreation Area offers more than 26,000 acres of marshes, wildlife sanctuaries and recreational athletic facilities, miles of sandy beaches; indoor and outdoor classrooms; picnicking and camping areas, as well as historic structures and military installations, airfields, a lighthouse, and adjacent waters around New York harbor.  The park offers urban residents in two states a wide range of recreational opportunities year round.  Gateway is one of the most ten visited national parks in the country.  For information abut Gateway's upcoming public programs, see the park's website at www.nps.gov/gate.  To join the conversation about Gateway, like us on our Facebook page www.facebook.com/Gatewaynps.