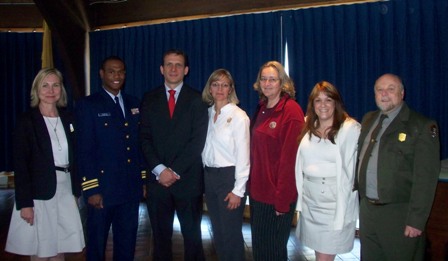 News Release Date:
May 12, 2010
The United States Attorney for the District of New Jersey and the United States Coast Guard Sectors New York and Delaware Bay announced on May 10th 19 new grants to promote the health and living resources of the coast and oceans of New Jersey. Gateway National Recreation Area received one of the environmental and conservation grants for $46,000 to remove marine debris along a 1.5 mile stretch of intertidal and foredune habitat at the North Beach of Sandy Hook. The grant was funded by community service payments made by Holy House Shipping AB, a Swedish shipping company that pled guilty to dumping oil-contaminated waste into the Pacific and Atlantic Oceans.
Shipping companies Holy House Shipping AB, Clipper Marine Services A/S and Dalnave Navigation Inc. violated federal laws and intentionally discharged millions of gallons of oil into navigable waters. As part of their criminal sentences, prosecuted by the United States State Attorney for New Jersey, they made community service payments totaling more than $1.5 million to the National Fish and Wildlife Foundation (NFWF). The funding will be used for a host of projects that support protection, scientific study and restoration of marine and aquatic resources in New Jersey.
The community service payments are managed by the NFWF on behalf of the US Coast Guard and the US Attorney. NFWF, a nonprofit organization, was established by Congress in 1984 with a goal to sustain, restore and enhance the nation's fish, wildlife, plants and habitats. Since its establishment, it has awarded over 10, 800 grants and more than $1.5 billion for on-the-ground conservation projects.
"The grant affords the removal of 90-120 cubic yards of non-hazardous stranded marine debris such as fishing gear, construction material, floatable plastics and tires," said Gateway Natural Resource Chief Doug Adamo. "The North Beach will become a safer breeding and foraging environment for migratory species such as the piping plover, american oystercatcher and least tern."
 The grants will deliver multiple environmental and conservation benefits, which includes aid to shorebirds, restoration of fisheries, boater education, and riparian and wetland restoration.