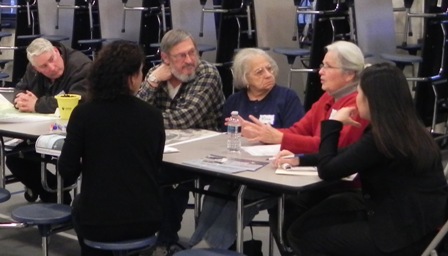 News Release Date:
August 28, 2012
Contact: John Harlan Warren, 718-354-4608
WHAT: Help Gateway create a new vision for a great urban park in the 21st Century. As part of the next phase of the on-going General Management Plan (GMP) process, three draft management alternatives, each laying out a different direction for the park, are available for comments and suggestions. Information about the alternatives and GMP can be found on the park's website at https://www.nps.gov/gate/parkmgmt/gmp-2012.htm
WHERE: Sandy Hook, N.J.; Floyd Bennett Field, Brooklyn; Great Kills Park, Staten Island.
WHEN: Jamaica Bay: Ryan Visitor Center, Floyd Bennett Field, Brooklyn
Wednesday, September 12, 3 P.M. - 7 P.M.
Sandy Hook: Historic Chapel, Fort Hancock
Tuesday, September 18, 3 P.M. - 7 P.M.
Staten Island: Education Field Station, Great Kills Park
Wednesday, September 19, 3 P.M. - 7 P.M.
WHO: Everyone with ideas about Gateway's next twenty years.
NOTE: Learn about the three draft management alternatives in the latest GMP newsletter https://www.nps.gov/gate/parkmgmt/gmp-2012.htm
--NPS--