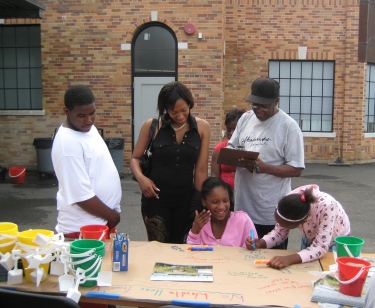 News Release Date:
November 2, 2010
Contact: John Harlan Warren, 718-354-4608
Contrast the beauty, simplicity and grandeur of nature at the edge of the most densely populated place in the nation, the greater New York and New Jersey metropolitan area. This is Gateway National Recreation Area. In fact, Gateway was the first unit of the National Park System specifically intended to serve the needs of urban residents.
Today, a new General Management Plan (GMP) is being written for the park. A GMP is a strategic document that outlines the future management of a National Park Service site for the next 15 to 20 years. The plan sets the basic philosophy and broad guidance for management decisions that affect the park's resources and the visitor's experience. The plan will take several years to complete.
A GMP requires not only internal planning but frequent input from the general public, visitors, stakeholders and other agencies. The park is hosting a series of Open Houses in November 2010 to solicit input from the public regarding three "preliminary alternative concepts," each of which could guide the park toward making different choices in the future.
"The world has changed a lot since Gateway's first GMP was written in 1979," said Acting Superintendent Linda Canzanelli. "Over the years we have developed a better understanding of our park's natural and cultural strengths. We are always looking for opportunities to work more closely with the communities around us and to serve their needs. Finally, we now understand that the Federal government cannot do it all."
You Are Invited to an Open House!
Nine informal open houses will give the public a chance to drop in and discuss their ideas, concepts and thoughts about Gateway National Recreation Area with the planning team. Please join us and learn more about the planning process. These Open Houses are just a first step.
OPEN HOUSES


Thursday, November 4, 12 noon – 6 PM at Federal Hall National Memorial, Manhattan

Monday, November 8, 4 PM - 8 PM

at Starrett City - Brooklyn Sports Club, Brooklyn

Tuesday, November 9, 2 PM - 8 PM

at Monmouth University, West Long Branch NJ

Wednesday, November 10, 2 PM - 8 PM

at Brookdale Community College, Lincroft NJ

Friday,

November 12, 12 noon - 6 PM

at Kingsborough Community College, Brooklyn

Saturday, November 13, 2 PM - 6 PM at Oakwood Heights Community Church, Staten island

Tuesday, November 16, 2 PM - 8 PM at Monmouth Beach Cultural Center, Monmouth Beach NJ

Wednesday, November 17, 2 PM - 8 PM

at Jamaica Bay Wildlife Refuge Visitor Center, Queens

Thursday, November 18, 2 PM – 8 PM at Fort Wadsworth Visitor Center, Staten Island
Visit the park website for detailed directions to the Open Houses and learn how to join our mailing list, submit comments and stay informed as the plan progresses: https://www.nps.gov/gate/parkmgmt/gmp.htm
For information about Gateway's three units—Jamaica Bay, Staten Island and Sandy Hook—or to find out about our upcoming public programs, see the park's home webpage at https://www.nps.gov/gate
Established in 1972, Gateway National Recreation Area has more than 26,000 acres of marshes, wildlife sanctuaries and recreational athletic facilities, miles of sandy beaches; indoor and outdoor classrooms; picnicking and camping areas, as well as historic structures and military installations, airfields, a lighthouse, and adjacent waters around New York harbor. The park offers urban residents in two states a wide range of recreational opportunities year round. With over nine million visitors a year, it is the third most visited national park in the country.