Contract awarded for investigation, clean up of contamination at Great Kills Park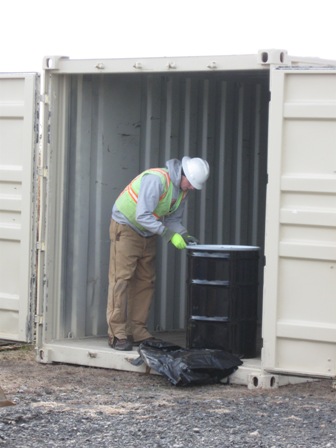 News Release Date:
January 9, 2013
Contact: Kathleen Cuzzolino, 718-354-4609
Tidewater, Inc. has been awarded a contract, through an Inter-Agency Agreement with the U.S. Army Corps of Engineers (USACE), to investigate and clean up radiological contamination at Gateway National Recreation Area's Great Kills Park on Staten Island. Work is scheduled to begin Monday, January 14.
"Even Hurricane Sandy could not stop us from continuing to clean up radiation from Great Kills Park," said Deputy Superintendent Suzanne McCarthy. "The removal of radiological hot spots is a long, complex process, but we are committed to getting it done safely and in accordance with Federal law." Great Kills Park is one of four areas of Gateway currently open to visitors after Hurricane Sandy.
Crews hired by Tidewater are scheduled to start work next Monday. They will install a perimeter fence and cut back much of the vegetation to prepare over 200 acres for a comprehensive gamma survey. Radiological survey equipment will cover the entire site, identifying contamination to a depth of approximately three feet. Once the survey is completed, contaminants will be isolated and removed by radiological experts.
Previous investigations at the site have identified the primary contaminant to be Radium-226, a radionuclide formerly used in medical treatments. The survey and removal work is part of the park's compliance with the Comprehensive Environmental Response, Compensation, and Liability Act (CERCLA), commonly known as the Superfund law, defines the process for cleaning up hazardous substances. This federal law details the steps required in the cleanup process from sampling protocols to community involvement to remediation.
The contamination was first discovered in 2005 when the New York City Police Department notified the NPS of an unexplained reading of "above background" radiation at Great Kills Park. Subsequent investigations identified additional areas of radiological contamination spread across over 200 acres of the park. For more information about the site history and previous environmental investigations at Great Kills Park, please visit https://www.nps.gov/gate/parkmgmt/greatkillscleanup.htm
About Gateway National Recreation Area
Established in 1972, Gateway National Recreation Area offers more than 26,000 acres of marshes, wildlife sanctuaries and recreational athletic facilities, miles of sandy beaches; indoor and outdoor classrooms; picnicking and camping areas, as well as historic structures and military installations, airfields, a lighthouse, and adjacent waters around New York harbor. The park offers urban residents in two states a wide range of recreational opportunities year round. With more than nine million visitors a year, it is the third most visited national park in the country. For information about Gateway's upcoming public programs, see the park's Web site at https://www.nps.gov/gate/index.htm
--NPS--
Last updated: February 26, 2015