Great Kills Park Reopens After Fire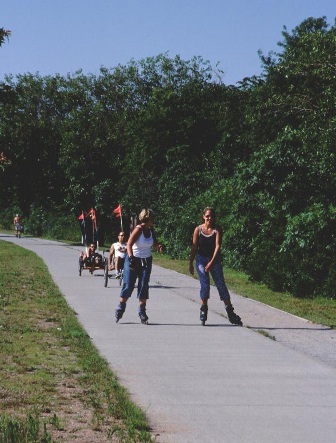 News Release Date:
September 13, 2010
Contact: Jane Ahern, 718-354-4607; cell 917-299-3843
Gateway National Recreation Area's (GATE) Great Kills Park has reopened to the public. The main entrance, multi-use pathways, marina, boat ramp, beach center and Crooke's Point are all open at this time.
On Sunday, rain offered some relief to fire crews and New York Police Department (NYPD) Aviation aircraft flew over the site to use an infrared camera to detect any remaining hotspots. National Park Service fire crews will remain on scene throughout this week to monitor the area. "There may be a few small areas that are still smoldering and producing smoke," said GATE Chief Ranger Bruce Lane."However, our crews will be on hand to monitor them and look for new activity as well as mop up burned areas."
The initial fire began on Wednesday, September 8 near the model airplane field at Great Kills. The fire burned approximately 145 acres and threatened an office trailer in the park's maintenance area. It also burned wooden docks and a water buffalo that were stored along the fire road. The majority of the fire burned grassland areas, with some shrublands and forested sections burned as well.
Crews from the Fire Department New York (FDNY), FDNY EMS and NYPD worked closely with NPS personnel from several different parks to fight the blaze. Gateway National Recreation Area brought in firefighters and brush fire trucks from as far as the Sandy Hook Unit in Highlands, New Jersey. The NPS Northeast Region and five NPS parks sent personnel, equipment or both. These include Acadia National Park in Maine, Cape Cod National Seashore, Hopewell Furnace National Historical Park in Pennsylvania, Statue of Liberty National Monument and Delaware Water Gap National Recreation Area. U.S. Forest Service personnel also assisted. United States Park Police (USPP) initiated an orderly evacuation of the park when the fire began and maintained the park closure throughout the incident.
The cause of the fire remains under investigation. The public is advised to stay out of burned areas and asked to report any suspicious activity in the area to United States Park Police at 718-338-3988.
Last updated: February 26, 2015