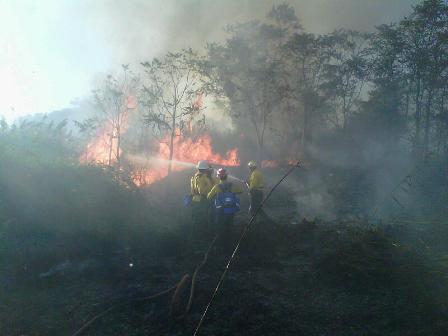 News Release Date:
September 10, 2010
Contact: John Harlan Warren, 917-829-0425
Contact: Jane Ahern, 917-299-3843
Great Kills Park, part of the Staten Island Unit of Gateway National Recreation Area (GATE), remains closed to the public until further notice due to fires that that have burned approximately 200 acres. The fires are currently under control but residual fires continue. Firefighters are patrolling the permimeter of the fire to extinguish remaining hot spots and to respond to possible flare-ups.
There are some exceptions to the closure. Visitors can access the Marina, boat ramp, beach center and Crooke's Point, all via Bulkhead Road. The main entrance and the Multi-Use Paths for bicyclists remain closed at this time.
The initial fire began on Wednesday, September 8, when a brush fire began near the model airplane field at Great Kills. The six-alarm fire burned extensive areas of grasslands and scorched an office trailer in the park's maintenance area. It also burned wooden docks and a water buffalo that were stored along the fire road.
Firefighting efforts by the Fire Department New York (FDNY), in cooperation with several units of the National Park Service (NPS), brought the blaze under control. But dry conditions and high winds reignited the area, causing a five-alarm fire on Thursday. This threatened homes in the Fox Beach section, which borders Great Kills Park. By late afternoon the flare up was brought under control later that day.
Crews from the Fire Department New York (FDNY), FDNY EMS and New York Police Department (NYPD) worked closely with NPS personnel from several different parks to fight the blaze. GATE brought in firefighters and brush fire trucks from as far as the Sandy Hook Unit in Highlands, New Jersey. The NPS Northeast Region and five NPS parks sent personnel, equipment or both. These include Acadia National Park in Maine, Cape Cod National Seashore, Hopewell Furnace National Historical Park in Pennsylvania, Statue of Liberty National Monument and Delaware Water Gap National Recreation Area. United States Park Police (USPP) and U.S. Forest Service personnel also assited. 
An NYPD helicopter made numerous 250-gallon water bucket drops on the fire. The United States Coast Guard's (USGC) police department unit and NYPD provided traffic control while USPP evacuated visitors from the park.
Eight firefighters suffered minor injuries. An additional fireman and one citizen were taken to the hospital for smoke inhalation.
The cause of the fire is under investigation.