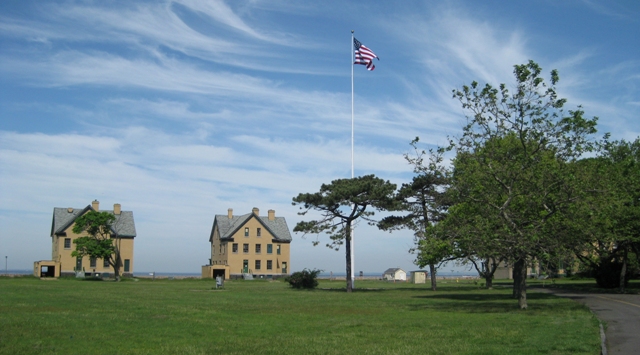 News Release Date:
December 12, 2014
Contact: Daphne Yun, 718-354-4602
Gateway National Recreation Area has issued three Requests for Proposals (RFPs) to lease up to six historic Army buildings within the Fort Hancock and Sandy Hook Proving Ground National Historic Landmark, which encompasses all of Gateway's Sandy Hook Unit. The park will accept submissions through April 16, 2015. Instructions on how to submit proposals and other details can be found at https://www.nps.gov/gate/parkmgmt/fort-rfp-2015.htm.
"These buildings will give Fort Hancock a new lease on life", said Gateway Superintendent Jennifer T. Nersesian. "Adaptive reuse of these beautiful buildings will reawaken Fort Hancock as a viable, vital community that enhances this national park and invigorates the local area."
In this pilot phase of Fort Hancock's renewal, Gateway may lease up to six buildings; two as bed-and-breakfasts, two as residences or residence/offices and two for not-for-profit/education organizations. The deliberate pace of rehabilitation will help the National Park Service (NPS) lay a secure foundation for a community that will include more than two dozen historic structures in the heart of Fort Hancock. A map that details how the NPS envisions the elements of a new Fort Hancock can be found at:  http://forthancock21stcentury.org/yahoo_site_admin/assets/docs/FACA_RFI_Map_08_28/1.24074955.pdf.
Since January 2013, the Fort Hancock 21st Century Federal Advisory Committee has helped Gateway consider the options for preservation of Fort Hancock's historic landscape and buildings. Its members include local elected officials and experts in fields such as real estate, education, and the environment. Meetings are open to the public and include a public comment period. Meeting summaries and information about the fort and its buildings can be found at http://forthancock21stcentury.org.
"Restoration of these remarkable buildings will enable Fort Hancock to once again fulfill an important national mission, this time in service of a broad array of community organizations, educational institutions, visitors and residents," said Gerard Glaser, committee co-chairman. "Once home to a community that was dedicated to the protection of the country's largest city, Fort Hancock now promises to become a unique and vibrant community that provides opportunity for new generations of park visitors."
About Fort Hancock and Sandy Hook Proving Ground National Historic Landmark
Fort Hancock is located within the Sandy Hook Units of Gateway National Recreation Area. The peninsula has played a major role in the defense of New York Harbor from colonial days to the present. Fort Hancock, a U.S. Army fort, was established in 1895 and operated until it was deactivated in 1974.
About Gateway National Recreation Area
Established by an Act of Congress in 1972, Gateway National Recreation Area spans three New York City boroughs and two states. Park lands include more than 26,000 acres of marshes; wildlife sanctuaries; recreational athletic facilities; miles of sandy beaches; indoor and outdoor classrooms; picnicking and camping areas; historic structures including military installations, airfields and lighthouses. Gateway is one of the ten most visited national parks in the country. For information about Gateway's upcoming programs, see the park's website at www.nps.gov/gate. To join the conversation about Gateway, like us on our Facebook page at www.facebook.com/Gatewaynps.