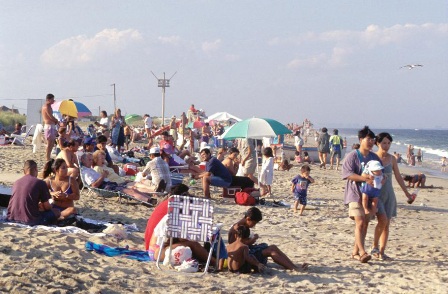 News Release Date:
June 16, 2009
Contact: Brian Feeney, 718-354-4606
Funding will Improve Energy Efficiency and Beach Access
As one of the most popular beach recreation areas along the Jersey Shore, Sandy Hook serves over one million visitors on its beaches each year. Six beach centers, all built in the early 1990's, provide restrooms and snack stands along five miles of ocean beaches. Two of the ARRA projects will concentrate on these centers with the installation of solar powered lighting and numerous enhancements to the plazas and restrooms. The third project will install beach boardwalks that will improve access for physically challenged visitors. Lumber made from recycled plastic containers will be used to construct the boardwalks. All projects are currently in the planning, design and compliance phase, with work scheduled to be completed in the summer of 2010.
Barry Sullivan, Gateway National Recreation Area's General Superintendent, commented:
"We are excited to be included in this nationwide effort to promote the use of energy efficient equipment. For several years Gateway has been working toward the goal of decreasing our fossil fuel consumption so we can reduce our carbon footprint and annual fuel costs. Taking the Beach Centers' lighting off the power grid and substituting solar powered cells will help move us toward that goal." He added, "Our visitors will see updates and improvements to our heavily used beach centers and to our beach boardwalk system. These improvements are all part of our ongoing commitment to provide the very best visitor experience at Sandy Hook."
"The American Recovery and Reinvestment Act was enacted to spur economic growth by investing in projects that create jobs and improve communities," U.S. Rep. Frank Pallone, Jr. said. "These funds will be used to provide access for disabled individuals and enhance beach facilities in the park - creating jobs and boosting the tourism industry in New Jersey. The project also includes energy efficient improvements, such as the installation of solar powered lighting and the use of recycled lumber for boardwalks, both of which are worthwhile investments into efficient uses of our resources."
For more information on the U.S. Department of the Interior's participation in the American Recovery and Reinvestment Act visit www.doi.gov/recovery. For information on the entire program visit: www.recovery.gov.