Gateway NRA Superintendent Barry T. Sullivan Receives Natural Resource Award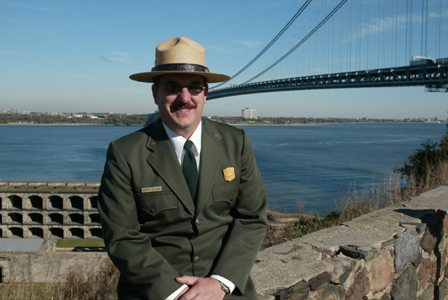 News Release Date:
January 26, 2010
Contact: Jane Ahern, 718-354-4607
National Park Service Northeast Regional Director Dennis Reidenbach has announced four winners of the Regional Director's Natural Resource Awards. The awards recognize outstanding contributions to natural resource stewardship in five categories that include park management,resource management, maintenance, and research.
Gateway National Recreation Area Superintendent Barry Sullivan was named Superintendent of the Year for Natural Resource Stewardship. Sullivan was cited for leading a multi-disciplinary effort on the regional Ocean Stewardship Implementation Strategy. He led a successful effort to develop a network of coastal parks, wildlife refuges, marine sanctuaries and estuarine reserves and develop marine resource conservation initiatives with multi-agency collaboration.
"These winners represent the best efforts to preserve our natural resources at parks throughout the northeast region," said Reidenbach. "Whether facing the broad challenges of global climate change or adverse local conditions, good science results in good management decisions that help protect our parks. Sullivan's collaborative approach to the protection and restoration of park resources is becoming increasingly important as parks deal with such issues as climate change and habitat fragmentation due to urbanization and should serve as a model for all parks."
Regional Director Reidenbach noted that Sullivan's efforts towards ocean stewardship and climate change initiatives have been tightly coupled and that he has been fully engaged in climate change programs at the park, region and national levels. The park is also preparing a new General Management Plan (GMP) and from the beginning of that process, Sullivan has consistently called for an understanding of climate change and ocean/marine resources to be at forefront of park planning. As Gateway's Superintendent he has engaged the expertise of Columbia University's Earth Institute, Rutgers University, and other scientists to interact with the GMP planning team to be certain that current scientific knowledge on climate change response and adaptation strategies is recognized.
Other recipients included; S. Jeffress Williams of the U.S. Geological Survey Woods Hole Coastal and Marine Science Center, Kristina Heister of Valley Forge National Historical Park in Pennsylvania, James Dunphy of Fire Island National Seashore in New York, and Margaret Beer of the National Program Center in Fort Collins, Colorado. Sullivan has been superintendent of the more than 26,000-acre Gateway National Recreation Area since 2006. Sullivan has overall management responsibility for the three Gateway NRA units: Staten Island (NY) including Fort Wadsworth and Miller Field; Jamaica Bay (NY) including Breezy Point including Floyd Bennett Field, the Jamaica Bay Wildlife Refuge, and Riis Park; and Sandy Hook (NJ) including Historic Fort Hancock and the Sandy Hook Lighthouse.
"I hope that the lessons learned at Gateway will improve preservation efforts of the resources of coastal national parks throughout the National Park System in several very important respects," said Sullivan. "The efforts in Jamaica Bay will serve as an excellent example of what can happen when borders or jurisdictional boundaries do not become impediments to resource stewardship."
Last updated: February 26, 2015