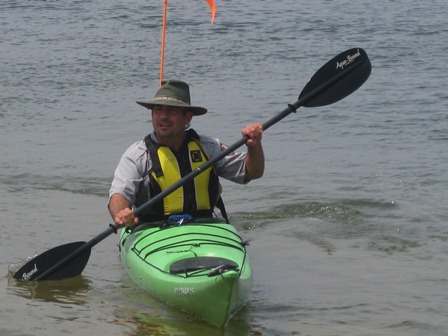 News Release Date:
August 6, 2013
Contact: Daphne Yun, 718-354-4602
 The Gateway National Recreation Area Draft General Management Plan and Environmental Impact Statement (Draft GMP/EIS) is now available for public review and comment.  A GMP is a strategic document that outlines the future management of a National Park Service site for the long term.  Gateway's Draft GMP/EIS outlines a new vision for the future management of the park over the next 15 to 20 years.
"This draft GMP/EIS is the culmination of 4 years of collaborative work with elected officials, shareholders, partners and the public", said Acting Superintendent Suzanne McCarthy.  "We believe it sets a successful path for Gateway's future."  The draft plan is a result of the input and sets a basic philosophy and broad guidance for management decisions that affect the park's resources and the visitor's experience.  We explored a range of options and created the National Park Service's preferred alternative, Alternative B; Discovering Gateway, which encompasses what we believe are the best ideas.
Gateway National Recreation Area is one of the first units of the National Park Service (NPS) specifically intended to serve the needs of its urban residents.  Its beaches, marshes, bike paths and historic sites are great places to have fun and enjoy the outdoors.  The park's natural environment also provides critical habitat for a diversity of birds and wildlife.
To comment on the draft GMP/EIS please visit our park planning website, https://www.parkplanning.nps.gov/projectHome.cfm?projectID=16091.  We will also host open houses at the following times and places.
OPEN HOUSES
Tuesday, August 20, 4 pm to 8 pm - Ryan Visitor Center, Floyd Bennett Field
Wednesday, August 21, 3:30 pm to 7:30 pm - Sandy Hook Chapel, Sandy Hook, NJ
Thursday, August 22, 4 pm to 8 pm - Ft Wadsworth Multi-Media Room, Building 120, Fort Wadsworth, Staten Island
Tuesday, September 10, 4 pm to 8 pm - Jamaica Bay Wildlife Refuge
Thursday, September 12, 3:30 to 7:30 pm - Sandy Hook Chapel, Sandy Hook, NJ
About Gateway National Recreation Area
 Established in 1972, Gateway National Recreation Area offers more than 26,000 acres of marshes, wildlife sanctuaries and recreational athletic facilities, miles of sandy beaches; indoor and outdoor classrooms; picnicking and camping areas, as well as historic structures and military installations, airfields, a lighthouse, and adjacent waters around New York harbor.  The park offers urban residents in two states a wide range of recreational opportunities year round.  Gateway is one of the ten most visited national parks in the country.  For information about Gateway's upcoming public programs, see the park's Web site at https://www.nps.gov/gate/index.htm.  To join the conversation about Gateway, like us on our Facebook page www.facebook.com/GatewayNPS.