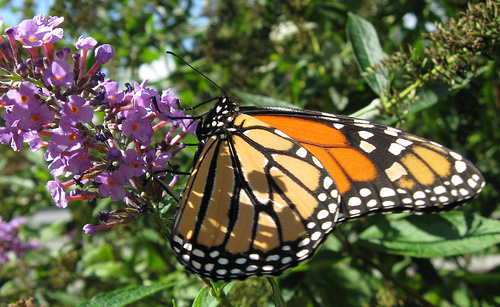 News Release Date:
August 4, 2009
Contact: Kathy Garofalo
With a wing span of only 3-4 inches across and a migratory journey hundreds of miles long, the Monarch butterfly could use a break don't you think? The Monarch is perhaps the best known of all North American butterflies and two groups have been working together to see that there is a "butterfly break" for the Monarch and all butterflies that come to and through Gateway National Recreation Area's (GATE) Great Kills Park on Staten Island.
For the last two years, the Protectors of the Pine Oak Woods (PPOW) have worked with GATE staff at Great Kills to plant a butterfly garden to attract and help conserve butterfly populations. In that time, 200 native plants were obtained from the Greenbelt Native Plant Center and added to this garden. The garden is adjacent to the Great Kills Education Field Station. The PPOW plantings were funded by grant money from the New York City Environmental Fund. Great Kills Park has done population studies and tagged monarch butterflies for Monarch Watch, a nonprofit educational outreach program based at the University of Kansas focusing on population, habitat and fall migration patterns.
Dave Taft, assistant superintendent of Gateway NRA-Staten Island Unit, said that he liked that it is more than just a one-day event, "And you can experience small wonders like the Monarch butterfly migration in late summer/early fall, when they are making their way back to their wintering grounds in Mexico." Some of the caterpillar host plants and nectar producing flowers that have been planted are milkweed, joe-pye weed, mountain mint, black-eyed susan, goldenrod, coneflowers and wild bergamot.
One of the PPOW members and Gateway NRA volunteers, Chuck Perry, said, "We like the idea of making a community wildlife habitat. The site is surrounded by birdfeeders, as well as beach plum shrubs and bayberry bushes that make excellent wind breakers for the butterflies." This year, Great Kills staff have added a fence border and path. A rock garden is being created, for landing butterflies to bask on (they are cold blooded and need to regulate body temperature), along with a water feature in the center for male insects to exhibit puddling behavior, where they can obtain nutrients for reproduction.
Monarchs are especially noted for their lengthy annual migration. In North America they make massive southward migrations starting in August until the first frost. A northward migration takes place in the spring. The Monarch can be found in a wide range of habitats such as fields, meadows, prairie remnants, urban and suburban parks, gardens, and roadsides.