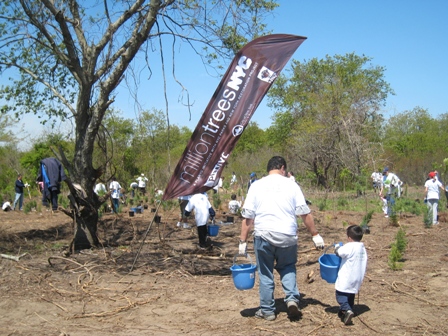 News Release Date:
October 13, 2011
Contact: Meghan Lalor, NYC Parks, 212-360-1311
Contact: John Harlan Warren, NPS, 718-354-4608
About 600 youth representing New York City Department of Parks and Recreation, the Boy Scouts of America, Brooklyn Council, the YMCA and the Indo-Caribbean Alliance, Inc., will join together to enjoy local stewardship and camping at The Great Urban Outdoor Event on October 15-16 at two parks in Brooklyn: Gateway National Recreation Area's Floyd Bennett Field and NYC Parks' Marine Park.
Beyond its iconic buildings and cultural institutions, New York City features incredible untapped natural resources. These can inspire the next generation of urban environmental stewards.The goal of The Great Urban Outdoor Event is to "Engage, educate and employ" youth in and around the Jamaica Bay area. The event seeks to inspire our young citizens not only to enjoy the outdoors, but also to encourage their stewardship of New York City's natural heritage and to open their eyes to green career opportunities. Youth participating will plant native trees, clean up New York City's coast, take nature walks and camp outdoors.
"Urban natural areas are just as important as pristine wilderness parks," said Gateway Superintendent Linda Canzanelli. "Because parks like Gateway are close to large and diverse populations, we can engage urban youth and adults who have yet to see places like Yellowstone." Canzanelli said Gateway and its sister NYC parks inspire youth to learn about the necessity of natural spaces like those in New York City and it gives youth the chance to consider careers in public service.
"Introducing kids to green jobs puts them on the path to long-term careers and fosters a strong commitment to improving the environment," said NYC Parks & Recreation Commissioner Adrian Benepe."The Great Urban Outdoor Event represents a shared commitment between the National Park Service and NYC Parks to engage, educate, and employ young New Yorkers, by taking advantage of the city's natural resources."
During the day, staff from the National Park Service, NYS Department of Environmental Conservation and NYC Parks & Recreation will lead activities in and around Jamaica Bay. The events include a large coastal clean-up, native planting around the new campsites and mulching and watering trees that were planted last fall through the MillionTreesNYC mayoral initiative. From rangers to foresters, gardeners to administrators, the staff will demonstrate urban environmental career choices and engage youth in dialogue about the ways environmental stewardship can sustain our urban metropolis.
In the evening, approximately 150 youth and chaperones will camp overnight at one of the two parks. Overnight campers will experience a number of entertaining activities including team-building initiatives and games, night hikes, a lantern tour of the historic aircraft, star gazing and storytelling.
The program will culminate with all campers boarding the American Princess Ferry at the Gateway Marina for a two-hour Eco-Tour of Jamaica Bay. Don Riepe, Mickey Cohen and three other naturalists will be onboard with spotting scopes and binoculars, giving the participants a closer look at some of Jamaica Bay's resident birds.
Sponsors include the New York Harbor Conservancy and Disney. Support organizations include:
New York State Department of Conservation (Region 2, Division of Environmental Education)

Brooklyn College/CUNY

NASA-Solar Systems Educators Program and Amateur Astronomers.
About Gateway National Recreation Area
Established in 1972, Gateway National Recreation Area has more than 26,000 acres of marshes, wildlife sanctuaries and recreational athletic facilities, miles of sandy beaches; indoor and outdoor classrooms; picnicking and camping areas, as well as historic structures and military installations, airfields, a lighthouse, and adjacent waters around New York harbor. The park offers urban residents in two states a wide range of recreational opportunities year round. With more than nine million visitors a year, it is the third most visited national park in the country. For information about Gateway's upcoming public programs, see the park's Web site at https://www.nps.gov/gate/index.htm
About NYC Parks
Parks & Recreation is the steward of about 29,000 acres of land - 14 percent of New York City - including more than 5,000 individual properties ranging from Coney Island Beach and Central Park to community gardens and Greenstreets. We operate more than 800 athletic fields and nearly 1,000 playgrounds, 550 tennis courts, 66 public pools, 48 recreational facilities, 17 nature centers, 13 golf courses, and 14 miles of beaches. We care for 1,200 monuments and 23 historic house museums. We look after 600,000 street trees, and two million more in parks. We are New York City's principal providers of recreational and athletic facilities and programs. We are home to free concerts, world-class sports events, and cultural festivals.
-NPS-