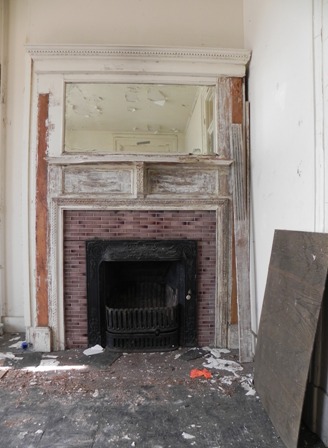 News Release Date:
February 15, 2011
Contact: Raina T. Williams, 718-354-4606
NEW YORK – The National Park Service will hold two public open houses to discuss how to preserve historic Fort Hancock, the former Army fort at the northern end of Sandy Hook in Highlands, N.J. The Sandy Hook Unit is one of three units within Gateway National Recreation Area, which is administered by the National Park Service.
The two open houses will be held Tuesday, February 22 at the Monmouth Beach Cultural Center, 128 Ocean Avenue in Monmouth Beach, N.J., and Thursday, February 24 at Henry Hudson High School at One Grand Tour in Highlands, N.J. Participants can visit any time between 4 P.M. and 8 P.M.
"We do not need to build any new structures at Fort Hancock or Sandy Hook—not one single brick," said Gateway National Recreation Area Superintendent Linda Canzanelli. "We need to save what exists now." Canzanelli added that Gateway NRA will listen closely to citizens who care about Fort Hancock. "The Park Service cannot do this alone. Public-private partnerships, through the NPS Leasing Program, have the capability and capacity to restore these buildings beyond what the NPS or the community can do individually."
The National Park Service seeks questions, comments and suggestions from the public for immediate and long-term actions to preserve existing structures. Participants will be able to speak directly with park personnel and short video presentations will reveal the current state of the buildings as well as their potential. Information from recent brainstorming sessions will share examples of how public-private partnerships have helped other urban national parks, which have preserved suites of historic buildings through adaptive reuse. Participants may sign up for tours of Fort Hancock to be conducted in the spring. 
Individuals can submit comments either at the open house or online after the open houses. The National Park Service will accept written comments through March 15, 2011. Comments will be shared with the public as part of the park's General Management Plan (GMP), a multi-year process scheduled to be completed in 2012. Once revised, the new GMP will guide park planning and decision making for the next 20 years.
For almost a century, Fort Hancock was a key link in the defense of New York Harbor. It remained an active Army base until it was deactivated in 1974. Today the former barracks, officers club, family quarters, mess halls and dozens of other historic structures cover about 300 acres of the total 2,000 acres within Gateway's Sandy Hook Unit. Several structures received National Historic Landmark status in 1982.
Established in 1972, Gateway National Recreation Area has more than 26,000 acres of marshes, wildlife sanctuaries and recreational athletic facilities, miles of sandy beaches; indoor and outdoor classrooms; picnicking and camping areas, as well as historic structures and military installations, airfields, a lighthouse, and adjacent waters around New York harbor. The park offers urban residents in two states a wide range of recreational opportunities year round. With more than nine million visitors a year, it is the third most visited national park in the country. For information about Gateway's three units--Jamaica Bay, Staten Island and Sandy Hook--or to find out about our upcoming public programs, see the park's website at https://www.nps.gov/gate/index.htm