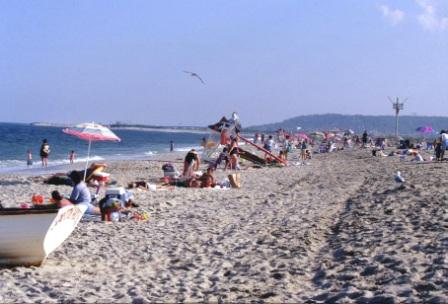 News Release Date:
June 16, 2009
Contact: Brian Feeney, 718-354-4606
This Saturday and Sunday, June 20 & 21, the Sandy Hook Unit of the Gateway National Recreation Area will be participating in the nationwide Fee Free Weekend at America's National Parks. Although Sandy Hook has no entrance fee, a beach parking fee of $10 per car is charged between Memorial Day and Labor Day. This weekend all beach parking will be FREE. Sunday is also Father's Day, and the Fee Free Weekend is a great opportunity to invite your dad and the rest of your family and friends to enjoy Sandy Hook and make some memories at a local National Park.
In addition to this weekend, there will be two more Fee Free Weekends at Sandy Hook this summer:
July 18 & 19, and August 15 & 16. However, visitors are reminded that Sandy Hook only has 5,000 parking spaces and on busy weekends during the summer season these spaces can fill up during the morning hours.
When all parking spots are filled, the entrance to the park will close until a sufficient number of cars have left. Visitors should also remember that the New Jersey Department of Transportation is still working to replace the Highlands Bridge at the entrance to Sandy Hook. This project slows the flow of cars into the park and also causes delays when exiting. The National Park Service is very concerned about the visitor experience in light of these delays, and has taken new steps this year to reduce the exiting delays.
Dave Avrin, the Sandy Hook Unit  Superintendent, said it best when he offered this advice: "Arriving early and leaving early is the best way to avoid traffic delays." He added, "Although swimming is only permitted when our lifeguards go on duty at 10 a.m., sitting on the beach and enjoying the early morning sun is a great experience at Sandy Hook." For additional information, call 732-872-5970.