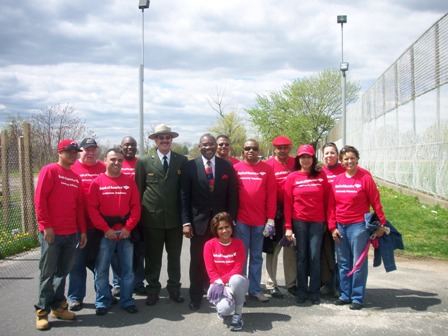 News Release Date:
April 26, 2010 Macy's motto, "Volunteering is Always in Fashion," fits their commitment to volunteerism to a "t". In fact that motto was sported on the t-shirts worn by their volunteers at the Frank Charles Park Clean-up on April 19.  The volunteers looked their best and helped the park look its best because of their hard work. A group of about 35 volunteers, from Macy's and Bank of America, in partnership with the National Parks Foundation and the National Park Service, contributed their time and effort to clean up the playgrounds, baseball fields and shoreline of Frank Charles Park. The site is located in the Jamaica Bay Unit of Gateway National Recreation Area.
Volunteers raked baseball fields and playground area, bagged leaves and litter from the shore, and painted building facilities on the park grounds. "Employees are always trying to find ways to give back to the community and what better way than to clean-up a national park in our own backyard," added Iasha Rivers Macy's Director of External Affairs.
Congressman Gregory Meeks attended the event and thanked the volunteers for their participation and contribution to the park. "I grew up with parks near my house and I understand the importance of outside recreation because it kept me out of trouble and involved in physical activity," said Meeks. "Children need to be more active and involved in organized recreation."
Gateway NRA Superintendent Barry Sullivan said, "I couldn't be happier than to see so many volunteers having a good time while they spruce-up the park. It's great to see volunteers care about the health and future of their parks. The people of NYC want green areas for recreation, solitude or a place to get-away to, and providing that is our responsibility."
The National Park Foundation is the national charitable partner of the National Park Service. The foundation works jointly with the National Park Service to help connect all Americans to national parks and to make sure that they are preserved for future generations. Macy's and Bank of America are official partners of the National Park Foundation for National Park Week. Efforts include habitat restoration, trail maintenance, and land/river clean-ups.