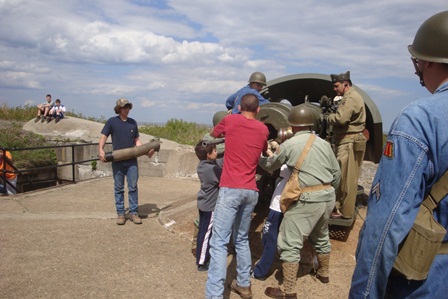 News Release Date:
October 16, 2014
Contact: Jennifer Cox, 732-872-5914
 The National Park Service will hold its annual celebration of Fort Hancock Days on Friday, October 24 and Sunday, October 26.  Fort Hancock Days commemorates the naming of the Fortifications at Sandy Hook as "Fort Hancock" in October, 1895.  The historic fort now constitutes Gateway National Recreation Area's Sandy Hook Unit.  In 1982 the entire peninsula was designated the "Fort Hancock Sandy Hook Proving Ground National Historic Landmark."
On Friday, October 24 from 6:30 P.M, to 9:30 P.M., volunteers from the Army Ground Forces Association (AGFA) will conduct a lantern tour of the Fort, beginning at the Fort Hancock Museum and ending at Battery Gunnison, which was built in 1904.  AGFA volunteers, wearing authentic World War II U.S. Army Coast Artillery Corps uniforms, will emphasize the fort's World War II years when Fort Hancock's population swelled to more than 5,000 soldiers and civilian defense workers.  AGFA will focus in particular on 1943, when the Army converted Battery Gunnison from being a disappearing gun battery into its present configuration as a pedestal mounted gun battery and renamed it "Battery Peck".
On Sunday, October 26 from 12 P.M. to 4:30 P.M., visitors can watch or join in helping AGFA members conduct gun drills at Battery Gunnison, to see how an original Model 1900 six-inch gun (actually over 25 feet long and weighing 10 tons) was aimed and loaded.  Period medical equipment will be on display and staffed by AGFA volunteer Army nurses.  The medical collection includes an original Army 1943 Picker field medical X-Ray machine (non functioning).
Also on Sunday, October 26, the Sandy Hook Mortar Battery, America's first concrete mortar battery located across the street from the Sandy Hook Lighthouse, will also be open for tours from 1 P.M. to 4 P.M.  During World War II the tunnels of this battery served as a Harbor Defense Command Post, a central headquarters commanding all of New York Harbor's forts and defenses from 1941 to 1945.
Fort Hancock protected the harbor area from enemy warships and warplanes from the time of the Spanish-American War through the nuclear age.  During the Cold War, radar and Nike air defense missiles were the fort's last defense system from 1954 to 1974.  Former Army Nike veterans will conduct guided tours of Fort Hancock's Nike Missile Radar site at Horseshoe Cove on Sunday, October 26, from 12 Noon to 4 P.M.  The fort was deactivated in 1974, and became one of the park units of Gateway National Recreation Area as a National Park Service site.  Visitors are welcome to visit Sandy Hook's beaches, trails and many military and other historic sites.