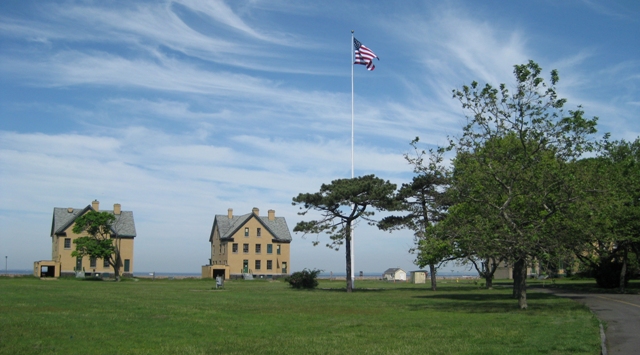 News Release Date:
June 19, 2013
Contact: Pete McCarthy, 732-872-5913
 The Gateway National Recreation Area Fort Hancock 21st Century Advisory Committee will hold its next meeting Friday, June 28, 2013 at Building 22, the NJ Seagrant Consortium located within Fort Hancock, N.J. from 9 A.M. to 5:30 P.M.
The Committee was established to make recommendations for the reuse of over 30 historic buildings in the Fort Hancock Historic Landmark District within Gateway's Sandy Hook Unit.  This meeting, like all meetings of the committee, is open to the public.
"As the Fort Hancock 21st Century Committee moves forward," observed Superintendent Linda Canzanelli, who is the designated federal officer to the committee, "we should begin to see the fruits of its labor addressing future uses of the historic district."
At this meeting, members will discuss and draft a Request for Expressions of Intent (RFEI) to determine possible future interest at Fort Hancock.
As with all meetings of the advisory committee, public comments will be taken at a regularly scheduled time.  The comment period begins at 4 P.M, with commenters called upon in the order they sign up.  Written comments may also be submitted to the committee in person, by mail or email or on the committee's blog at http:www.forthancock21stcentury.org/discuss/.
About the Fort Hancock 21st Century Advisory Committee
The committee was formed in September 2012 under the Federal Advisory Committee Act of 1972 (FACA).  FACA committees are formed to provide advice to the Executive Branch of government, which includes the National Park Service.  The 20 committee members, who applied to serve and were chosen by Interior Secretary Ken Salazar, serve without compensation and represent a wide array of local and national leaders in government, business, recreation and real estate as well as experts in natural, scientific and education resources.  The committee will meet every four-to-six weeks over a two or three year term and will strive to operate by consensus.  Relevant documents, background material, meeting minutes, and other useful information used by the Committee can be found on their website at http://forthancock21stcentury.org.
About Gateway National Recreation Area
Established in 1972, Gateway National Recreation Area offers more than 26,000 acres of marshes, wildlife sanctuaries and recreational athletic facilities, miles of sandy beaches; indoor and outdoor classrooms; picnicking and camping areas, as well as historic structures and military installations, airfields, a lighthouse, and adjacent waters around New York Harbor.  The park offers urban residents in two states a wide range of recreational opportunities year round.  With more than eight million visitors per year, it is one of the top five most visited national parks in the country.  For information about Gateways' upcoming public programs, see the park's Web site at www.nps.gov/gate.