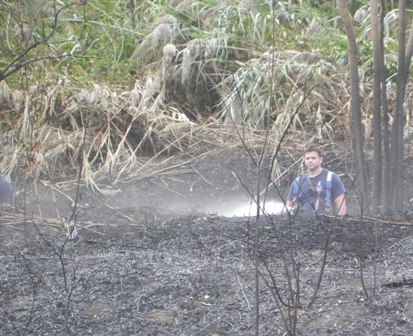 News Release Date:
July 16, 2012
Contact: Tomas Liogys, assistant fire management officer, 718-354-4551
Gateway National Recreation Area invites the public to learn about and comment upon the development of an Environmental Assessment/Assessment of Effect (EA/AoE) for the park's upcoming Fire Management Plan. The EA/AoE sets out varying options for the park's wildland fire management program, including one chosen as a preferred alternative. 
"For Gateway to protect visitors, park staff, firefighters and the park's cultural resources, from the risk of fire, as well as enhance some of the park's natural ecosystems, we need a robust Fire Management Plan that addresses the complexity of wildland fire issues at Gateway," said Superintendent Linda Canzanelli. "To develop a comprehensive plan we need to hear the community's thoughts, concerns and ideas." 
Public comments will be accepted through August 15, 2012. The draft EA/AoE addresses a full range of wildland fire activities: wildland fires and their suppression; prescribed fire as a management tool; and mechanical treatments to reduce hazardous fuel loads and protect structures. 
The draft EA/AoE identifies several issues as they relate to the park's mission: firefighter, employee and public safety; coordination with cooperating fire management agencies; geology, including soils; air and water quality and quantity; unique ecosystems; rare or unusual vegetation or wildlife, including threatened and endangered species; visitor activities and experiences; aesthetic resources; and, cultural resources such as historic structures. 
Once the EA/AoE is approved, the park will develop a Fire Management Plan based on the preferred alternative. 
Copies of the EA/AoE may be reviewed online at https://parkplanning.nps.gov/gate. Hard copies will be available at the following locations:  
Superintendent's Office, Park Headquarters, 210 New York Avenue, Staten Island, N.Y.

Building 26, Miller Field, Staten Island, N.Y.

William Fitz Ryan Visitor Center, Floyd Bennett Field, Brooklyn N.Y.

Jamaica Bay Wildlife Refuge, Broad Channel, Queens, N.Y.

Sandy Hook Visitor Center, Sandy Hook, N.J.

Queens Library at Ozone Park, 92-24 Rockaway Boulevard, Ozone Park, N.Y. 11417

Jamaica Bay Library, 9727 Seaview Avenue, Brooklyn, N.Y. 11236

Flatbush Library, 22 Linden Boulevard, Brooklyn, N.Y. 11226

Dongan Hills Library, 1617 Richmond Road, Staten Island, N.Y. 10304

Great Kills Library, 56 Giffords Lane, Staten Island, N.Y. 10308

Monmouth County Library, 251 Middle Road, Hazlet, N.J. 07730

Monmouth County Library, Eastern Branch, 1001 Route 35 Shrewsbury, N.J. 07702
Comments can be made online at the above web address or can be mailed to:
Gateway National Recreation Area
Office of the Superintendent
Fire Management Plan Comments
210 New York Avenue
Staten Island, N.Y. 10305
If you choose to submit comments, before including your address, phone number, e-mail address or other personal identifying information in your comment, you should be aware that your entire comment - including your personal identifying information - may be made publicly available at any time.While you can ask us in your comment to withhold your personal identifying information from public review, we cannot guarantee that we will be able to do so.
About Gateway National Recreation Area
Established in 1972, Gateway National Recreation Area offers more than 26,000 acres of marshes, wildlife sanctuaries and recreational athletic facilities, miles of sandy beaches; indoor and outdoor classrooms; picnicking and camping areas, as well as historic structures and military installations, airfields, a lighthouse, and adjacent waters around New York harbor. The park offers urban residents in two states a wide range of recreational opportunities year round. With more than nine million visitors a year, it is the third most visited national park in the country. For information about Gateway's upcoming public programs, see the park's Web site at https://www.nps.gov/gate/index.htm 
--NPS--