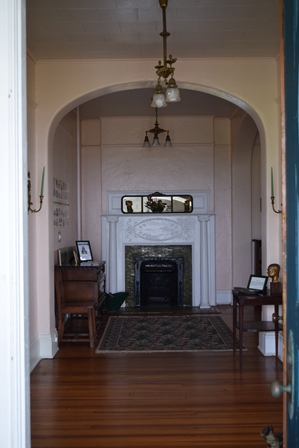 News Release Date:
May 14, 2015
Contact: Daphne Yun, 718-354-4602
On Sunday, May 17, Gateway National Recreation Area (Gateway) will open Fort Hancock's History House to the public for the first time since Hurricane Sandy.
"We are very happy to announce that History House will open this Sunday," said Jen Nersesian, superintendent of Gateway National Recreation Area. "We invite everyone to visit and learn about the role of Fort Hancock in the Coastal Defense of the United States."
History House will be open from 1 p.m. to 5 p.m. on weekends for self-guided tours until June 17. At that point it will be open daily from 1p.m. to 5 p.m. through August 31. Ranger staff will be stationed in the house to answer any questions.
Most, but not all, of the Sandy Hook Unit of Gateway, was flooded by Hurricane Sandy two years ago. At History House, the basement flooded, which destroyed the utility systems. The park is currently in the process of finalizing a scope of work for repairs.This will include moving a number of primary infrastructure systems, such as the heating and electrical units, to higher locations.
While the park finalizes plans this summer for future rehabilitation work, History House will remain open on a regular schedule through the end of August. At that point, the contents of History House will be removed for storage and preparations for the rehabilitation will begin.
"We'd like to especially thank the Sandy Hook Foundation for their help in making the opening of the History House possible this summer," stated Nersesian. "It adds yet another way to 'Find Your Park' at Gateway."
About Gateway NationalRecreation Area
Establishedin 1972, Gateway National Recreation Area offers more than 26,000 acres of marshes, wildlife sanctuaries and recreational athletic facilities, miles of sandy beaches;indoor and outdoor classrooms; picnicking and camping areas, as well as historic structures and military installations, airfields, a lighthouse, and adjacent waters around New York harbor. The park offers urban residents in two states a wide range of recreational opportunities year round. Gateway is one of the ten most visited national parks in the country. For information about Gateway's upcoming public programs, see the park's Web siteat https://www.nps.gov/gate/index.htm. To join the conversation about Gateway, like us on our Facebook page www.facebook.com/Gatewaynps