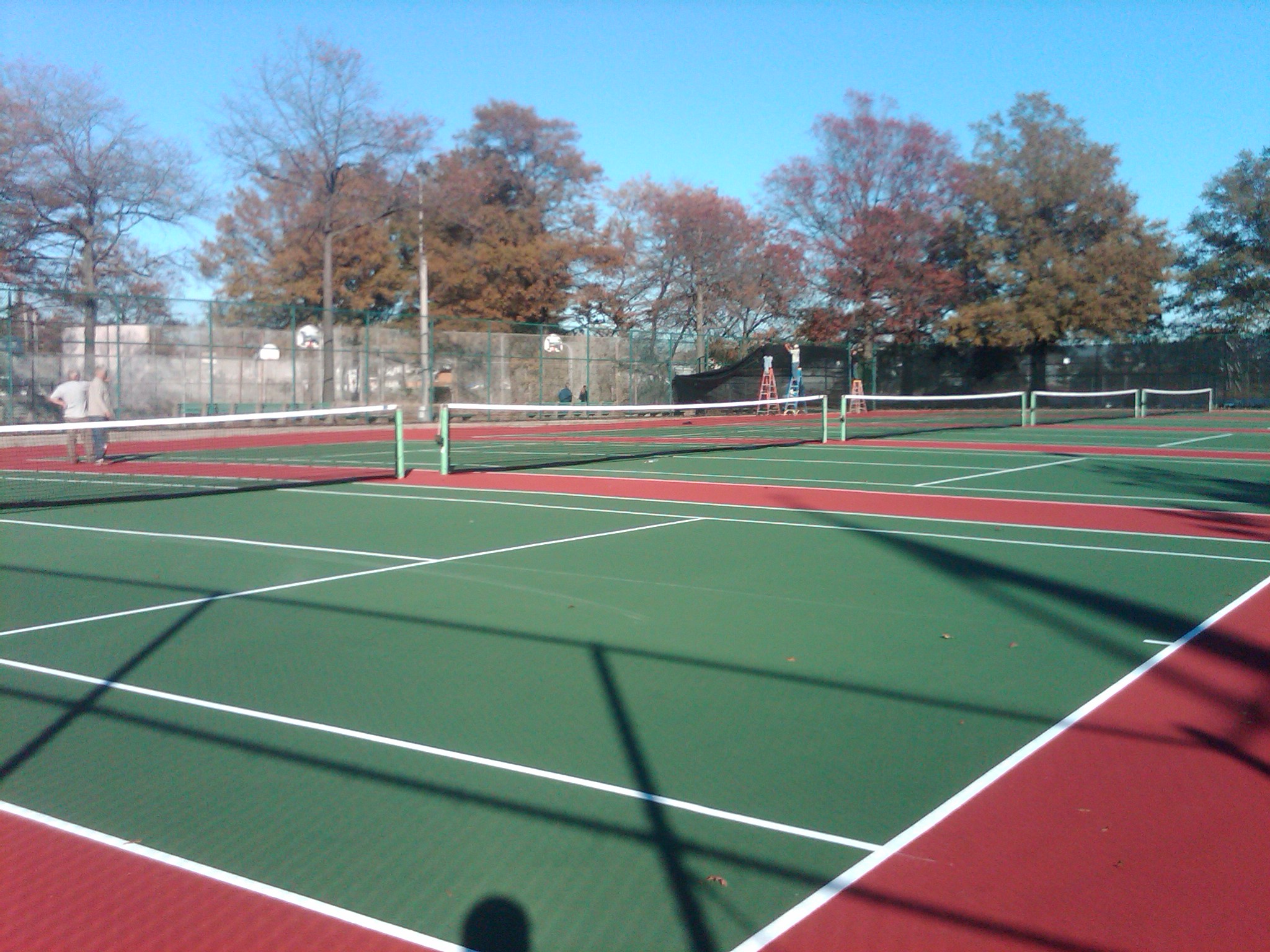 News Release Date:
November 18, 2010
Contact: John Harlan Warren, cell 917-829-0425
This month, Gateway National Recreation Area capped a year of facility and program improvements to Frank Charles Park by resurfacing the tennis courts. Frank Charles Park, a section of Gateway's Jamaica Bay Unit, is a 20-acre park located in Howard Beach, Queens.
The tennis courts, whose condition has been a source of local concern, are now coated with a new acrylic surface which will help preserve their new, improved condition. Before sealing, the courts were scraped, vegetation removed and cracks sealed. Fencing around the courts and posts for netting were repaired.
Earlier this fall the playground at Frank Charles Park saw a number of improvements. The rubber safety matting that covers the concrete walking area was replaced. The children's sprinkler is now manually operated, with a light detector switch installed so that the fountain only works during daylight hours, saving water and money.
Approximately a dozen concrete and wooden benches have been replaced, with recycled synthetic wood material providing a green and durable alternative to wooden boards. The NPS has repaired fences around the ball fields and recast water fountains located at the ball fields and elsewhere.
Recreational and interpretive programs at the park have improved as well, thanks in part to a partnership with the New York City Department of Parks and Recreation. One of the city's "urban park rangers" offered programs on the park's natural wonders, such as birds and sea creatures. Gateway launched kayaking programs from the shores of Frank Charles Park this summer and will do so again in 2011. An outdoor movie night in September attracted many visitors from the neighborhood.
Gateway is working with community and city leaders to further improve conditions at Frank Charles Park, especially the ball fields. This year, topsoil was spread over all the fields. Gateway and NYCDPR are discussing further field improvements. Gateway is working with others to replace the removed trees with a group planting of native species, which would attract bird life to the area.
The community also has an important role to play in Frank Charles Park's face lift. Already some improvements have suffered from vandalism. Increased community vigilance will help preserve these investments in the park's future. If visitors see anything suspicious, they should call United States Park Police at 718-338-3988.
Acting Superintendent Linda Canzanelli looks forward to continuing to work with the community and city. Canzanelli stated, "Frank Charles Park is a wonderful place to practice your backhand, hit a home run, watch children play or take in the natural wonders of New York Harbor. Gateway is pleased to make Frank Charles a place the community can be proud of."