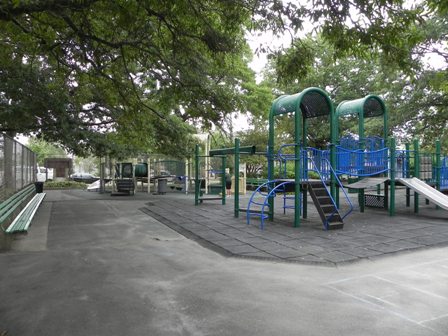 News Release Date:
October 8, 2010
Contact: Jane Ahern, 718-354-4607
Contact: John Harlan Warren, 718-354-4608
Frank Charles Park, located in the Jamaica Bay Unit of Gateway National Recreation Area, is currently in the midst of a beautification project. The playground area will be closed for approximately two weeks beginning October 12 as contractors for the National Park Service resurface the area. The work is expected to be complete within two weeks, weather permitting. The remainder of Frank Charles Park—including ball fields, tennis courts and basketball courts—will remain open.
The full scope of the "facelift" includes resurfacing of tennis courts, rehabilitation of athletic fields in the spring of 2011, as well as landscape improvements such as new picnic tables and reconstruction of existing benches. "There have been many improvements over the past year at Frank Charles Park," said Acting Superintendent Linda Canzanelli. "It's a lovely location to come and enjoy a picnic lunch, attend a ranger program, bird watch or jog along the multi-use pathway."
The National Park Service and the New York City Department of Parks and Recreation provide ranger programs to the public on site as well. "By all accounts numbers and participation have been excellent, and the experimental partnership between the NPS and the city is already bearing fruit," said Canzanelli. Programs have included several kayak launchings, natural history explorations such as seining programs and insect talks, structured play in the playgrounds and arts and crafts programs related to the resources of Jamaica Bay. The two park rangers will be working through the end of October and into November. About 35 volunteers participated in a park clean-up day in April 2010. A movie night held at the park last month was also a success.
In the past year 11 picnic tables were built, water fountains were recast, fencing around the site was repaired, new timer for lighting and sprinkler lights were installed and dead trees and limbs were removed from park.
Plumbing and switches that allow the Children's Play Area Sprinkler  to run "on visitor demand" have been installed. This enables visitors to start their own fun when they wish to, no longer needing to wait for a staff person to turn on the spigot. They also conserve water when not in use.
Frank Charles Park is a 20-acre park located in the Howard Beach neighborhood of Queens, New York City. The park was designed in the 1940s as one of several neighborhood parks serving city residents. It  also preserves some of the remaining fringe marshes which ring Jamaica Bay, including a favorite place for horseshoe crabs. It was transferred to the National Park Service after Gateway National Recreation Area was created by an Act of Congress in 1972.