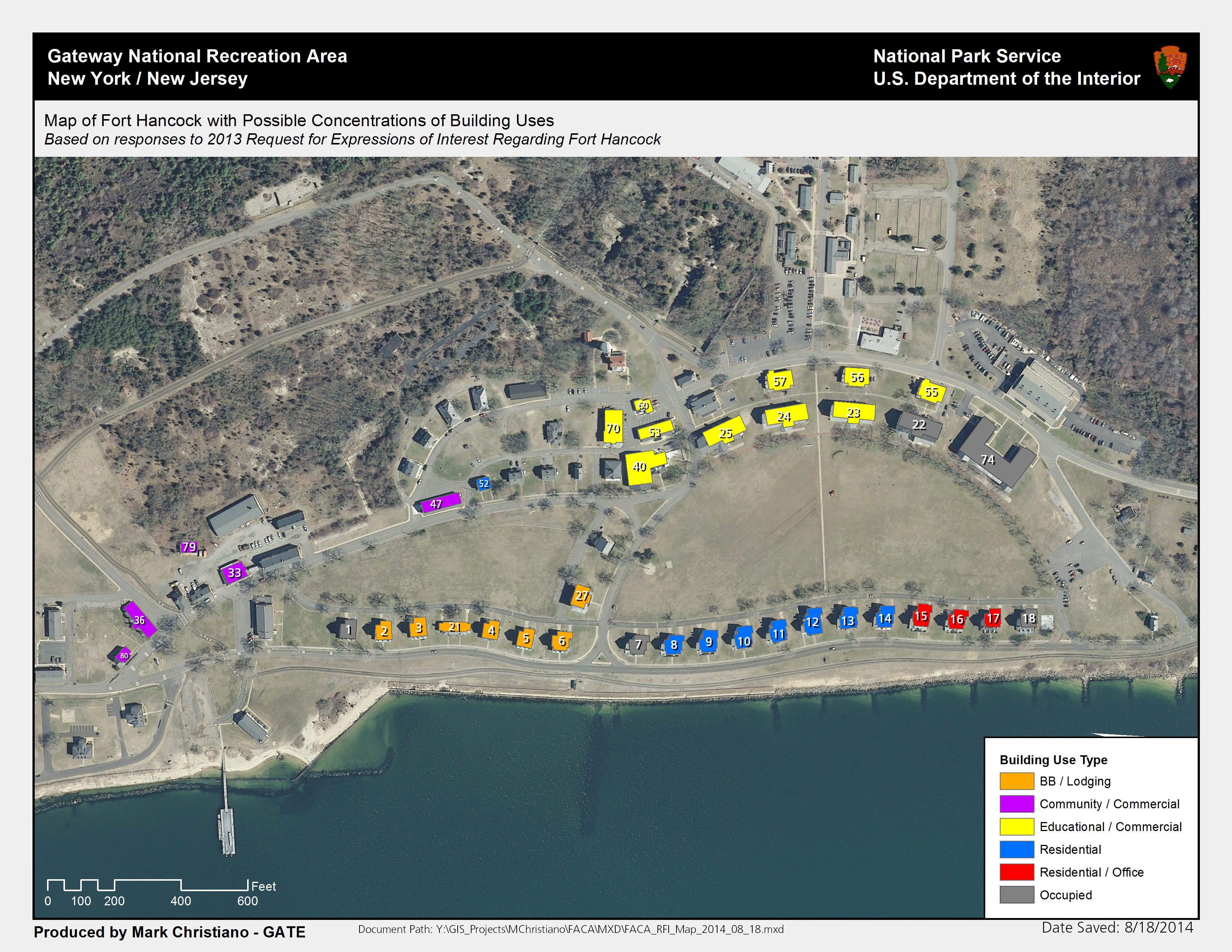 News Release Date:
August 22, 2014
Contact: John Harlan Warren, External Affairs Officer, 732-872-5908
The Fort Hancock 21st Century Federal Advisory Committee will hold its next meeting on Friday, September 12 at Brookdale Community College in the Donald D. Warner Student Life Center. The address is 765 Newman Springs Road, Lincroft, New Jersey.
The committee advises Gateway National Recreation Area on the best ways to preserve historic structures at Fort Hancock, which is located in the park's Sandy Hook Unit. At this meeting, park staff will discuss progress in developing a pilot program to lease six historic buildings at the fort.
Gateway will offer two buildings for leasing by not-for-profit organizations, two for bed-and-breakfasts and two for residential use.The park is developing three Requests for Proposal (RFPs), one for each type of use. Ultimately, the park intends to lease more than 30 buildings for adaptive reuse based on a Proposed Use Map unveiled at the last committee meeting in July.
Meetings are open to the public. They begin at 9 am and typically last through mid-afternoon. Those who wish to express their opinions may sign up to speak during the public comment section at 1 pm. Each speaker may address the committee for three to five minutes.
For more information about the committee, the buildings in question and the limits on what leaseholders can and cannot do, visit http://www.forthancock21stcentury.org.
About Fort Hancock and Sandy Hook Proving Ground National Historic Landmark
Fort Hancock is located within the Sandy Hook Unit of Gateway National Recreation Area. The peninsula has played a major role in the defense of New York Harbor from colonial days to the present. Fort Hancock, a U.S. Army fort, was established in 1895 and deactivated in 1974.
About Gateway National Recreation Area
Established by an Act of Congress in 1972, the three units of Gateway National Recreation Area span three New York City boroughs and two states. Park lands include more than 26,000 acres of marshes;wildlife sanctuaries;recreational athletic facilities;miles of sandy beaches;indoor and outdoor classrooms;picnicking and camping areas;historic structures including military installations, airfields and lighthouses. Gateway is one of the ten most visited national parks in the country.