New, returning members announced for Fort Hancock 21st Century Committee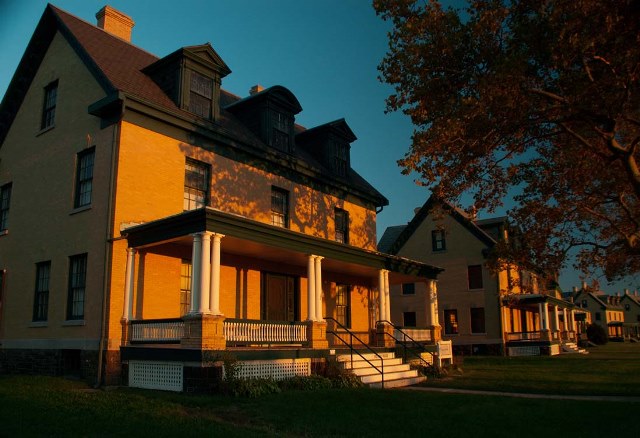 News Release Date:
September 1, 2015
Contact: John Harlan Warren, 917-829-0425
Interior Secretary Sally Jewell has named 13 members to the Gateway National Recreation Area Fort Hancock 21st Century Federal Advisory Committee, including the re-appointment of seven members whose terms had expired and six new members. Membership of the Committee will increase from 20 to 22 members.
"The expansion of membership will give even greater depth to a committee that has already accomplished a lot of work in a short time," said Superintendent Jennifer T. Nersesian. "We look forward to benefiting from the additional expertise the new members bring to the table as we make historic buildings available for leases as residences, bed-and-breakfasts, not-for-profit offices and businesses. They will help us revive Fort Hancock as a viable, vibrant community."
Members serve three-year terms. With the goal of creating a useful forum for input by relevant stakeholders, some members of the Advisory Committee are elected representatives of local municipalities. Others have experience in fields such as natural or cultural resources, business, the arts, education, real estate, recreation and hospitality. All seven members who applied for new terms were reappointed.
The Committee was established in September 2012 to advise the Secretary of the U.S. Department of the Interior, through the Director of the National Park Service, on strategies for the preservation and adaptive reuse of buildings in the Fort Hancock and Sandy Hook National Historic Landmark District. This district covers the entire Sandy Hook peninsula, including the Sandy Hook Unit of Gateway National Recreation Area in Middletown, New Jersey.
Meetings of the Committee are open to the public. All materials, meeting agendas and minutes can be found on the Committee's website at http://forthancock21.org. The next meeting of the Committee will take place on Friday, September 18 at Monmouth County Eastern Branch Library, located at 1001 Route 35, Shrewsbury, New Jersey 07702. Meetings begin at 9 A.M. and typically finish around 3 P.M., with a public comment period regularly held at 11:30 A.M. For directions, visit http://www.monmouthcountylib.org/index.php/about-us/branches#EB.
For those who are interested in serving as a member of this committee, a new Call for Nominations will be issued later this summer for members whose terms expire this month. Below is a list of all members being added at this time.
Local Stakeholders
·Stephanie C. Murray –Borough of Middletown: Murray serves as the Mayor of Middletown, where she was elected as a committeewoman in 2012. During the past year, she served informally as a conduit between town government and the committee. She organized and chaired Middletown 350, a group organizing the celebration of the town's 350th anniversary. A former assistant trader on the NASDAQ and the New York Stock Exchange, Murray owns and runs Crescent Moon Press, Inc., a publishing company.
·Anthony Mercantante: A licensed professional planner in New Jersey and a member of the American Institute of Certified Planners, Mercantante has served as Township Administrator for the Borough of Middletown since 2008. From 1989 to 2008, he served as planner for Middletown. He has helped other towns in and out of the state with planning for a variety of issues, including the management of growth and environmental concerns.
Natural Resources Community
·James Krauss: A Certified Public Accountant with over 40 years' experience, Krauss brings several diverse interests and talents to the group. A resident of Atlantic Highlands, a nearby community not previously represented on the committee, Krauss chairs the Atlantic Highlands Environmental Commission and also serves as a member of the Monmouth County Environmental Council.
Business Community
·Michael Walsh: Walsh works at the Federal Reserve Bank of New York, where he manages a group of legal risk specialists. Previously he served as chief compliance officer or as general council to a variety of financial institutions. Walsh also served on the zoning board of Fair Haven, where he has lived for 20 years and served as both a councilman and police commissioner. Walsh helped in planning the development of an historic district in Fair Haven and rewriting town zoning ordinances.
Resources Community
·Shawn A. WELCH(REAPPOINTMENT): "The Colonel" recently retired from active duty in the United States Army, where he served as chief of the command and installations analysis Division, Army Program Analysis and Evaluation, 3C353 Army Pentagon, Washington, DC. He is a founding member of the Army Ground Forces Association (AGFA), where he shepherded extensive rehabilitation of Battery John Gunnison and has worked as a World War II-era reenactor. AGFA has also helped preserve gun batteries at Fort Mott, Fort Monroe and Fort MacArthur.
·Mary Eileen Fouratt (REAPPOINTMENT): Executive director of the Monmouth County Arts Council since 1999, Fouratt oversees the community arts planning for Monmouth County, municipalities, and regional redevelopment plans, and administers the local arts grants program in partnership with the New Jersey State Council on the Arts. The Council is a nonprofit county-wide arts agency with a $500,000 budget, a 17-member Board of Trustees, 75 member arts groups, and over 250 individual members.
—MORE—
·Katherine H. Stevenson: Recently retired after a 40-year career with the National Park Service, Stevenson has held two associate director positions;associate for business services and associate for cultural resources, partnerships and recreation programs. Her combination of historic preservation expertise and familiarity with concessions in the NPS will serve Fort Hancock well as it reawakens into a vital, vibrant community.
Real Estate Community
·Guy T. Hembling (reappointment): President of Charles B. Hembling &Son, Inc., Hembling oversees numerous historic restoration projects. Past projects include The Church of Seven Presidents in Long Branch, Old Brick Church in Marlboro and, at Fort Hancock, Barracks Building 22—the home of New Jersey Sea Grant Consortium.
·Karolyn Wray (reappointment): Wray serves as director, relocation &business development/broker, and office manager for Berkshire Hathaway Home Services, New Jersey Properties. Wray is responsible for developing relocation and referral business throughout Monmouth and Ocean Counties.
·Jeffrey C. Tyler: A senior director at Express Scripts, Tyler directed all real estate transactions for this Fortune 20 Company. He has extensive experience in real estate matters in the tri-state area as well as experience with US Government leases and procedures. Tyler currently chairs the Hazlet Township Land Use Board, which created the award-winning Hazlet 2030 Vision Plan, and is a member of the Hazlet Open Space Advisory Council.
Recreation Community
·Timothy G. Hill(reappointment): Hill has 33 years of experience in the municipal government serving in a variety of positions. A 30-year member of the New Jersey Recreation and Park Association, Hill has served as both president of the association and as a member of the public affairs, conference, strategic planning, awards and community recreation society committees.
·Lynda H. Rose (reappointment): President of the Eastern Monmouth Area Chamber of Commerce (representing more than 500 businesses in the Monmouth and Ocean County Area), Rose is responsible for the planning, communication, program development and all operational aspects of the organization. Rose has been a featured speaker on the tourism industry and assists businesses through a variety of events and seminars.
Hospitality Organizations
·Margot Walsh (reappointment): Executive director of the Jersey Shore Partnership and president of its Foundation, Walsh also served as the vice president of administration and development with the Foundation for New Jersey Public Broadcasting. She is currently a member of the American Shore &Beach Preservation Association, Eastern Monmouth Chamber of Commerce, the Monmouth/Ocean Development Council, the MODC Environment and Energy Committee and the Sea Grant Consortium Stakeholder Advisory Board.
—MORE—
About Gateway National Recreation Area
Established by an Act of Congress in 1972, Gateway National Recreation Area spans three New York City boroughs and two states. Park lands include more than 26,000 acres of marshes;wildlife sanctuaries;recreational athletic facilities;miles of sandy beaches;indoor and outdoor classrooms;picnicking and camping areas;historic structures including military installations, airfields and lighthouses. Gateway is one of the ten most visited national parks in the country. For information about Gateway's upcoming public programs, see the park's Web site at https://www.nps.gov/gate/index.htm.To join the conversation about Gateway, like us on our Facebook page www.facebook.com/Gatewaynps. Our Instagram page can be found at http://www.instagram.net/gatewaynps.
—NPS—
Last updated: September 14, 2015