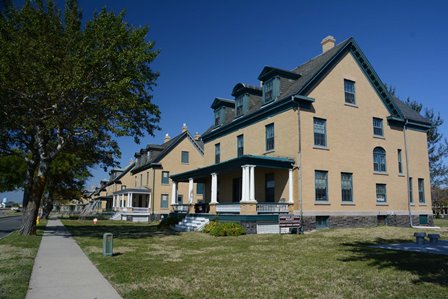 News Release Date:
May 5, 2015
Contact: John Harlan Warren, External Affairs Officer, 732-872-5908
WHEN: Friday, May 8, from 9 A.M. to 3 P.M.
WHERE: The Beech Room of the Visitor Center at Thompson Park, part of the Monmouth County Park System. Address is 805 Newman Springs Road, Lincroft NJ, 07738-1695. Find directions and information at http://www.monmouthcountyparks.com/page.aspx?Id=2539. The following three meetings of the Committee will take place at this new location as well: June 26, September 11 and October 25 (all Fridays). Meetings will return to the Sandy Hook Chapel on Friday, December 4.
WHAT: Since 2013, the Fort Hancock 21st Century Federal Advisory Committee had advised Gateway National Recreation Area about the best ways to preserve buildings at the Fort Hancock and Sandy Hook Proving Ground National Historic Landmark, which includes all of Gateway's Sandy Hook Unit.Members were appointed by Interior Secretary Ken Salazar in 2013 from a number of disciplines including business, real estate, education, the arts, hospitality and natural sciences. Elected officials from nearby towns and Monmouth County serve as well.
WHO: All committee meetings are open to the public. A public comment section will take place at 11:30 AM. Speakers will be called in the order that they sign up;they may address the Committee for up to five minutes.
WHY: Gateway National Recreation Area is leasing vacant but historically significant buildings to preserve them through adaptive reuse.
About Fort Hancock and Sandy Hook Proving Ground National Historic Landmark
Most of the Fort Hancock Historic Post is located in the Sandy Hook Unit of Gateway National Recreation Area. This peninsula has played a major role in the defense of New York Harbor from colonial days to the present. The U.S. Army established Fort Hancock in 1895 and maintained it until its deactivation in 1974. For information about Gateway's upcoming public programs, see the park's Web site at https://www.nps.gov/gate/index.htm.
—NPS—